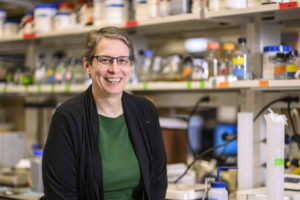 The Division of Neonatology and Newborn Nursery's large staff of attending physicians, hospitalists, nurse practitioners, fellows and other staff members includes a small group of research scientists. They don't see patients as their MD/PhD colleagues do. Instead, they are dedicated to enhancing the health of newborn infants in their first days and weeks of life through their scientific research. One such dedicated researcher is Distinguished Scientist Christine M. Sorenson, PhD. In late April, she was awarded the prestigious Chancellor's Award for Excellence in Research, Independent Investigator category.
Sorenson's selection for the Chancellor's Award honors her for innovative investigations into retinal neovascularization, including retinopathy of prematurity (ROP), which can cause permanent vision problems or blindness in preterm infants born before 31 weeks of pregnancy. Her findings are potentially far-reaching, extending beyond clarification of the mechanisms of ROP and its possible mitigation to research into the wide-spread problem of wet age-related macular degeneration (AMD), a leading cause of visual impairment in the elderly.
The common element of ROP and AMD is the excessive growth of branching blood vessels and consequent leakage into the vitreous—the cavity filled with clear gelatinous material that keeps things in place. For both the 30-week neonate with a risk of ROP and the 80-year-old retiree losing vision to wet AMD, the key biological mechanism is similar; blindness is possible. Sorenson's research points to possible mitigation of neovascularization through modulation of apoptosis. The publications of these findings are only the most recent of Sorenson's 148 scientific journal articles. In addition, in 2017 she was given the title "Distinguished Scientist" by the School of Medicine and Public Health (SMPH) in recognition of her pivotal role in helping to strengthen the reputation of the university.
There were only two undergraduate programs in nuclear medicine in Wisconsin when Sorenson sought to enter the field. It had been only a few years since FDA approval of thallium-201 as a radiopharmaceutical, with iodine-131 and more radioactive tracers soon to follow. Sorenson graduated from UW­­–La Crosse with a major in nuclear medicine and a minor in chemistry; she was fortunate to be selected for a nuclear medicine internship at the Mayo Clinic in Rochester, Minnesota. She subsequently worked as a nuclear medicine technologist in Nebraska but knew her calling was research—to work in a lab and solve problems. To that end, she pursued and completed a PhD in biochemistry at the University of Nebraska while working as a graduate research assistant.
The McArdle Laboratory for Cancer Research gave Sorenson an early taste of Madison, where she spent three years in a post-doctoral fellowship. Further research positions followed at Washington University School of Medicine in St. Louis, which kindled her interest and initial investigations of apoptosis—genetically-programmed cell-death—and kidney development. Sorenson studied apoptosis in St. Louis and continued her work at the Department of Pediatrics at SMPH, where she was hired in 2000 as an assistant scientist.
"My initial apoptosis research was in regulation of cell death during kidney development," explained Sorenson. "My eventual move to ophthalmologic vascular research was clear and logical: the systems share the same branching defects, similar apoptosis dysfunction."
Sorenson has spent more than 10 years investigating apoptosis and ocular neovascularization, both developmentally in newborns, presenting as disorders such as ROP, and in adults through her research of wet AMD in preclinical models, which also arises through disrupted apoptosis. Some of the findings of Sorenson's dedicated and innovative research may prove to be beneficial to infants at the very beginning of their lives as well as to people facing vision loss as they pass middle age.