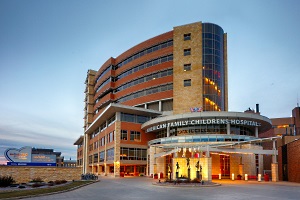 American Family Children's Hospital
Highlights
In 2017, department faculty provided regional specialty patient care services (clinics, remote reads, and medical directorships) in 27 cities in Wisconsin and Illinois.

Faculty in six divisions—cardiology, hematology/oncology, gastroenterology, medical genetics, nephrology and pulmonology—participated in 59 regional services projects in 2017.
American Family Children's Hospital was the first center in Wisconsin to provide nusinersen (Spinraza) therapy to patients with spinal muscular atrophy (SMA). Nusinersen is the first FDA-approved therapy for SMA; it's a gene-modifying therapy that is delivered via injection into the spinal canal. The therapy is offered at the hospital's Pediatric Neuromuscular Disorder Clinic, which in 2017 provided care for 124 patients with 14 different muscular dystrophies. 

American Family Children's Hospital is also participating in a clinical trial for AVXS-101, a gene replacement therapy for SMA that corrects the gene defect. AVXS-101 is given intravenously one time.
The American Family Children's Hospital Universal Care Unit re-opened on the seventh floor of the hospital. It serves children whose needs are higher than those of a general care unit, but not as acute as those in the Pediatric Intensive Care Unit (PICU). The move paved the way for the hospital's neonatal intensive care unit (NICU) expansion from 14 to 26 beds in 2018.
The American Family Children's Hospital Pediatric Heart Program continued to expand. From FY16 to FY17, the number of new patients in our adult congenital heart disease program increased by 19%, and the number of new patients in our pediatric preventive cardiology clinic increased by 36%. Our cardiologists now see patients at outreach sites in 18 Wisconsin cities and one Illinois city. They also read EKGs and ECHOs from three states (Wisconsin, Michigan and Illinois) and from over 40 hospitals and clinics.
In 2017, U.S. News and World Report ranked American Family Children's Hospital among the top 50 children's hospitals in six specialties: cancer, cardiology and heart surgery, diabetes and endocrinology, gastroenterology and GI surgery, nephrology, pulmonology.
Department of Pediatrics faculty care for patients at:
American Family Children's Hospital, an 111-bed comprehensive pediatric medical and surgical center in Madison;
UnityPoint Health–Meriter, a 448-bed community hospital in Madison;
SSM Health St. Mary's Hospital, a 440-bed tertiary referral hospital in Madison; and
Ten clinic locations in Madison and surrounding communities.
 
Our faculty also provide regional specialty outreach services in 27 cities in Wisconsin and Illinois.