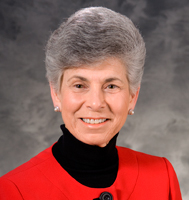 I'm proud to welcome you to the University of Wisconsin Department of Pediatrics' 2017 Annual Report, an overview of our accomplishments in education, research, and patient care.
SMPH Curriculum Transformation, Global Health Prep and a Commitment to Patient Safety
In 2017, we continued to be actively involved in the University of Wisconsin School of Medicine and Public Health's curriculum transformation. Three of our faculty had leadership roles in "Human Family Tree," the fourth course in the new curriculum, while many other faculty, learners and collaborators were integral to the design and implementation of other parts of the curriculum.
Several of our faculty, residents and staff partnered with the Midwest Consortium of Global Child Health Educators to pilot a "boot camp" to prepare learners for the challenges of a global health experience.
In addition, two of our residents served as representatives on patient safety and quality improvement workgroups at UW Health and American Family Children's Hospital. We applaud their efforts and appreciate their commitment to providing the best care possible for the children and families we serve.
Pediatrics in 2017: A Snapshot
| | |
| --- | --- |
| • | 183 faculty & 146 staff |
| • | 43 residents & 29 fellows |
| • | $24.1M in extramural grant funding |
| • | PIs and/or co-Is on 286 grants; 55 clinical studies managed |
| • | 251 published journal articles |
| • | 132,505 outpatient visits |
| • | 8,834 hospital admissions |
| • | 12,593 emergency department visits |
| • | $98M in total revenue |
Ranked 6th Nationwide in NIH Funding
We are thrilled to be ranked #6 of 88 medical school pediatric departments nationwide for National Institutes of Health (NIH) awards, according to data compiled and released by the Blue Ridge Institute for Medical Research (BRIMR).
In FY17, our department held nearly steady on research funding, with $24.1 million in extramural support. Our faculty submitted 122 proposals; 43 (35%) were funded.
Throughout 2017, our faculty were PIs or co-Is on 286 grants, and our department's centralized clinical research coordinators managed 55 studies.
Finally, faculty, residents and fellows presented 71 abstracts at the department's 2017 Spring Research Day. Of these, 25 (35%) were accepted at the Pediatric Academic Society (PAS) meeting: 13 as poster presentations, 10 as platform presentations and two as workshops.
Outreach Expands, New Therapies Offered, American Family Children's Hospital Ranked in Top 50
Our faculty continued to provide outstanding regional specialty patient care services. In 2017, they participated in 59 regional services projects in 27 cities in Wisconsin and Illinois.
American Family Children's Hospital led the way in innovative therapy for children with advanced disease: in 2017, we received FDA approval to provide chimeric antigen receptor (CAR)-T cell therapy, tisagenlecleucel (Kymriah) for children with treatment-resistant or relapsed acute lymphoblastic leukemia. We were also the first center in Wisconsin to provide nusinersen (Spinraza) therapy to patients with spinal muscular atrophy.
Our Pediatric Heart Program also continued to expand, with a 19% increase in the number of new patients in our adult congenital heart disease program and a 36% increase in the number of new patients in our pediatric preventive cardiology clinic.
Finally, in 2017, U.S. News and World Report ranked American Family Children's Hospital among the top 50 children's hospitals in cancer, cardiology and heart surgery, diabetes and endocrinology, gastroenterology and GI surgery, nephrology and pulmonology.
Thanks to Our Faculty and Staff
As always, I'm grateful to our outstanding faculty and staff for their accomplishments and for the contributions they've made to our department in 2017. Your extraordinary teaching, research and patient care are what make us such a strong, successful department.
Ellen R. Wald, MD
Professor and Chair
Alfred Dorrance Daniels Professor on Diseases of Children