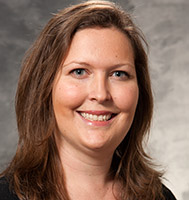 Paula Cody, MD, FAAP, an assistant professor (CHS) in the Division of General Pediatrics and Adolescent Medicine, and a member of the American Academy of Pediatrics (AAP) Section on Adolescent Health, gave an educational session on how to help teens at risk for suicide during the AAP's National Conference, held September 16-19, 2017, in Chicago.
Dr. Cody explained how pediatricians can screen for suicidal ideation, recommended that they do so as part of a complete social history at each visit and outlined steps to take if they identify an at-risk patient.
"Eighty percent of teems attempting suicide had contact with a health care provider in the past three months", she said in an article published in the conference's news magazine.
Dr. Cody also encouraged pediatricians to advocate for access to mental health care, train future health care providers to screen for suicide risk and work to make sure suicide isn't sensationalized in the media.