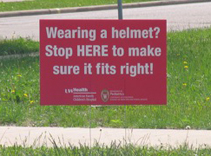 For the second year, a team of more than 15 volunteers, including Department of Pediatrics faculty and residents, donated their Sunday afternoons to help fit bike helmets during Madison's Ride the Drive bike events, held June 5 and September 25, 2011.
The volunteers staffed two helmet fitting stations along the route, each of which were marked by large banners provided by the American Family Children's Hospital's (AFCH) Child Health Advocacy Program.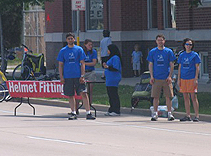 Roadside signs with thought-provoking questions about bike helmets also helped get riders' attention as they approached the stations.
The signage—and the volunteers' enthusiasm—paid off. This year, a total of 334 people stopped by the stations for a fitting. At last summer's Ride the Drive, only 90 people stopped by the stations, even though there were nearly twice as many total riders participating in the event.
The percentage of riders who stopped for a helmet adjustment also increased with each event.
'I'm So Glad Someone is Doing This'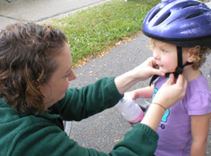 The groups that stopped by the station most often were children aged 5 through 13, and their parents. Children under age 5 were mostly riding in bike trailers, and unfortunately, many were not wearing helmets.
The team offered low-cost helmets for sale during September Ride the Drive, and plans to do so again next year.
"We received many grateful thanks from parents, many of whom asked us to check their own helmets as well," said Department of Pediatrics Assistant Professor Dipesh Navsaria, MD, MPH, MSLIS, who organized the event. "The most common comment we heard was, 'I'm so glad someone is doing this. I really had no idea if I was putting this on correctly.'"
Indeed, a properly fitting helmet while bicycling, in-line skating, or skateboarding can reduce the risk of serious brain injury by more than 85 percent. Three out of four bicycle-related deaths and permanently disabling injuries are caused by brain damage.
A bike helmet's liner, which is made from stiff crushable foam, absorbs most of the impact in a crash. The brain needs the protection of a helmet to cushion the blow that otherwise would hit the skull and brain in a crash.
Thanks to the Volunteers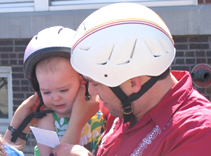 Thanks to the following people who volunteered at the Ride the Drive events in 2011:
Arij Beshish
Asaad Beshish, MBBch
Stephanie Booms
Patricia Deffner-Valley, MD
Julie Elliot
Rishelle Englebretson
Tom Englebretson
Thomas Garvey
Jonathan Gehlbach, MD
Jennifer Jones, MD
Angie Kleiber
Bonnie Kwok
Karin Mahony
Katherine Munck
Dipesh Navsaria, MD, MPH, MSLIS
Bikash Pattnaik, PhD
Stephanie Treffert
Linda Youngwirth
Also thanks to Ellen Felsheim for helping coordinate volunteers, and the AFCH Kohl's Safety Center for materials and assistance.