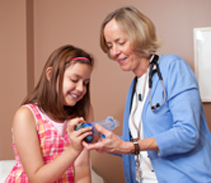 Pediatric nurse practitioner Kathleen Shanovich, RN, MS, was a school nurse in Madison for six years. She remembers firsthand the struggles of families who have children with asthma and allergies, and the problems associated with asthma-related absenteeism.
That's why, after she joined the UW Health clinical team, she continued working closely with the Madison Metropolitan School District and American Family Children's Hospital to create a School Asthma Clinic.
The weekly clinic, which just completed its third year, provides underserved children in Madison with specialized asthma and allergy care that they might not otherwise receive. It also aims to reduce asthma- and allergy-related school absences, emergency room visits, and hospital stays.
Comprehensive Care and Case Management
When children arrive at the clinic, Shanovich and her colleagues do an assessment, provide asthma education, develop a medical action plan, and establish formal communication between the clinic, the school nurse, and the child's primary care provider. If a child has no primary care provider, Shanovich's team makes a referral to Access Community Health Centers to ensure the child has a medical home.
School nurses are the program's backbone. They refer eligible children to the clinic, and also serve as case managers: working closely with families, facilitating scheduling and transportation, implementing the asthma action plan at school, and monitoring related urgent care or emergency room visits.
"School nurses are a very powerful tool for children in our community," Shanovich said. "They are on the front lines, they are incredible, and they are what make this program work."
'Exemplary' Recognition from the CDC
The Madison Metropolitan School District's (MMSD) Health Services Division nominated their school asthma management program to the Centers for Disease Control and Prevention's Department of Adolescent and School Health as an exemplary school asthma program.
MMSD was notified in September 2010 that they were selected as one of three sites in the country to receive this recognition and for a site visit from the CDC team. MMSD's partnership with the School Asthma Clinic was identified as one of the key reasons for this recognition.
"As a group of health care professionals planning and implementing a program together, we were pleased and surprised with this recognition," remarked Shanovich.
In the future, the School Asthma Clinic hopes to expand to meet the needs of other school-aged children with poorly controlled asthma who live in Dane County.
The School Asthma Clinic is generously funded by the Child Health Advocacy Program at American Family Children's Hospital.