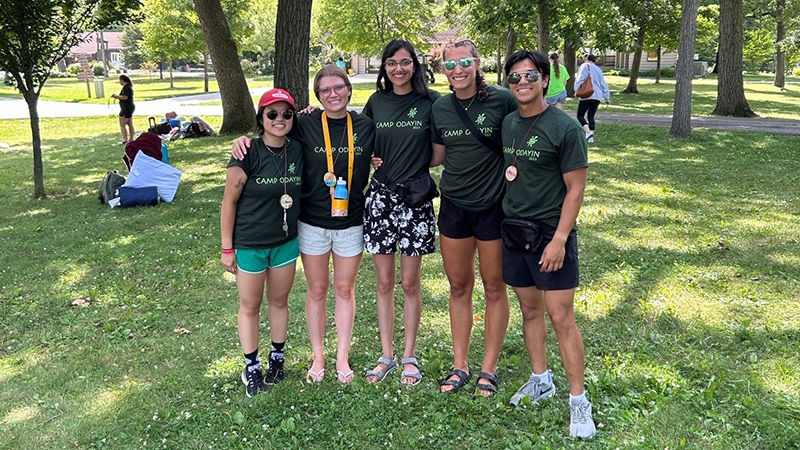 Since 2002, Camp Odayin has provided a fun, supportive, and adventurous sleep-away camp experience for children with heart disease and their families. The environment is safe and inclusive, provides a sense of community, and helps campers build skills that contribute to their capacity to lead full and active lives. In its first year, 53 campers from six different states joined Camp Odayin's summer residential camp. Since then, the organization has expanded its offerings and added programs and events for families. In 2023, Camp Odayin welcomed a record number of campers to its Wisconsin Residential Camp in Elkhorn, Wisconsin.
A unique aspect of Camp Odayin is that its camps in Minnesota and Wisconsin are medically staffed. This provides a safe environment where children with heart disease can build connections and try new things. Thanks in part to generous volunteers, campers never pay more than $25 to attend the weeklong camp.
In summer 2023, several students from the UW School of Medicine and Public Health volunteered at Camp Odayin, including Greigory Dimailig, a fourth-year medical student and a former researcher in the Department of Pediatrics Division of Cardiology. Dimailig is currently applying to pediatric residencies and plans to enter the field of pediatric cardiology.
According to Dimailig, camp counselors enjoyed classic camp activities with their campers, including archery, swimming, fishing, rock climbing, and zip-lining. They also participated and encouraged their campers in cherished nighttime camp activities such as "Messtival," a talent show, and a camp dance.
Dimailig had a glowing review of camp. "Interacting with the children in this natural setting allowed me to listen to their unique stories and witness their incredible resilience in the face of life's challenges," he said. "It was a profoundly impactful experience that I will always cherish. I wholeheartedly recommend Camp Odayin to all volunteers."
How to get involved
Camp Odayin is currently seeking volunteers for its fall family camps. Please see the opportunities below:
Seeking Pediatric Cardiology Practitioners to speak and share during parent-only time at each Family Camp. Volunteers are needed the morning of Saturday, October 21 at Camp Wapo in Amery, Wisconsin (1 hour from St. Paul) or the morning of Saturday, November 4 at Wonderland Camp in Salem, Wisconsin (1 hour from Milwaukee and Chicago). Email sara@campodayin.org for more details.
Seeking volunteers to support activities during the entire weekend at Family Camp: October 20–22 at Camp Wapo and November 3–5 at Wonderland Camp. Reach out to alison@campodayin.org for more details.
If you would like to get involved in Camp Odayin in the future or would like to receive news about the organization, sign up for Camp Odayin Enews.
In the photo: A group of UW School of Medicine and Public Health students volunteered as camp counselors at Camp Odayin at Camp Lutherdale in Elkhorn, Wisconsin, July 23–28. Pictured left to right are Lauren Nguyen, Alankrit Shatadal, Samantha Barr, Makenzie Morgen, and Greigory Dimailig.