On July 31, 2014, 16 adolescent girls and their family members from around the region gathered at the UW Health Research Park Clinic for the first lunch-and-learn symposium on polycystic ovary syndrome (PCOS).
The symposium — organized by Tracy Bekx, MD, an associate professor in the Department of Pediatrics and the co-director of the UW Health Adolescent PCOS Clinic at American Family Children's Hospital — brought together experts from several disciplines to teach girls ways to manage the biological and psychosocial aspects of PCOS.
Strategies for Staying Healthy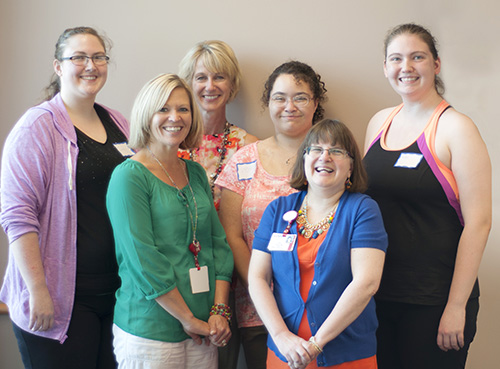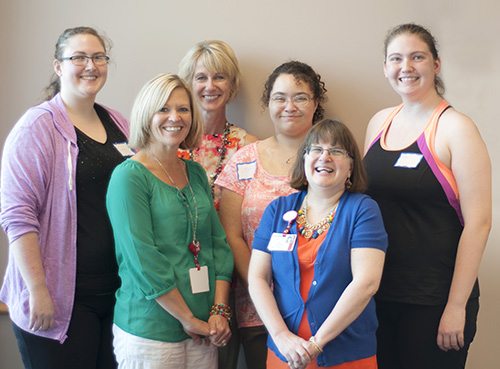 An endocrine disorder found in 5 to 10 percent of women of childbearing age, PCOS is associated with irregular menstrual periods; excessive male hormone production that can lead to acne and hirsutism; and obesity that compounds the increased risk of insulin resistance, Type 2 diabetes, and cholesterol abnormalities often found in these young women.
The symposium kicked off with a healthy lunch for all participants and their families, followed by presentations by UW Health clinicians on such topics as:
Acne and hirsutism;
Self-esteem and motivation;
Menstruation and fertility;
Sleep issues, including apnea;
Nutrition and healthy eating; and
Ways to stay active.
Participants also joined in group exercise activities, played a Jeopardy-style game, and received a grab bag to take home.
'Make a Change and Be in Control'
Dr. Bekx said the symposium was as much about patient empowerment and social support as it was about medical management.
"I wanted to bring these girls together so they can see that they're not alone," she explained. "They and their families can walk away feeling good about themselves—ready to make a change and knowing that they are in control."
"Overall the response from participants was very positive," she continued. "One young lady stated, 'I didn't know this was going to be so much fun.' "
Most participants were patients at the UW Health Adolescent PCOS Clinic that Dr. Bekx directs with her colleague Ellen Connor, MD. The multidisciplinary clinic is one of only a few of its kind in the U.S.
Established in 2005, it has included pediatric endocrinologists, a pediatric gynecologist, a dietician, and a health psychologist. Together, those clinicians provide comprehensive care for adolescent girls and young women with PCOS—from initial diagnosis and treatment through long-term education and engagement.
---
For additional information about PCOS and the clinic, listen to an interview with Dr. Bekx on the PCOS Challenge radio show, a program produced by the international support organization PCOS Challenge.