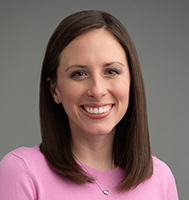 Education
BS, Arkansas State University, Jonesboro, Arkansas
MD, University of Arkansas for Medical Sciences, Little Rock, Arkansas
Residency, Pediatric, University of Washington, Seattle Children's Hospital, Seattle, Washington
Fellowship, University of Washington, Seattle Children's Hospital, Seattle, Washington
MS, Health Services, University of Washington, Seattle, Washington
Clinical Certificate in Palliative Care, University of Washington, Seattle, Washington
Professional Activities
Dr. Taylor House is assistant professor in the Division of Nephrology with a focus on studying interventions to support kids with kidney disease and their families that allow them to live well in addition to living longer. House completed both a fellowship in pediatric nephrology fellowship and certificate training in palliative care. She enjoys researching and teaching communication skills for serious news delivery to patients and their families. House recently led a workshop on serious news delivery for pediatric nephrologists at an international conference, and she hopes to adapt this curriculum for broader application in the future.
Clinical Interests
House is interested in providing care to kids experiencing the various stages of kidney disease combined with a focus on living well. She loves the opportunity to meet a family early in a child's life and then to serve them for many years to come.
Research Interests
House's research centers on improving the quality of life and care for children with kidney disease through integrating palliative care. She is particularly interested in developing communication tools for adolescents, young adults, and their families that empower them to better address their illness burdens and enable them to live the life they want for themselves.