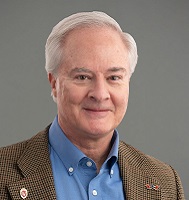 Education
BS, Biological Sciences, Cornell University, Ithaca, New York
MD, Cornell University Medical College, Ithaca, New York
Residency, Pediatrics, Northwestern University – Children's Memorial Hospital, Chicago, Illinois
Fellowship, Pediatric Infectious Diseases, University of Colorado Health Sciences Center School of Medicine – The Children's Hospital, Denver, Colorado
Professional Activities
Dr. James Conway is professor (CHS) in the Divisions of Infectious Diseases and Global Pediatrics. He works both domestically and globally with programs designed to improve the lives of children, particularly focused on vaccine development and immunization system strengthening. In addition to his service as a professor, Conway is the director of the Office of Global Health at the UW School of Medicine and Public Health (SMPH), program director of the Pediatric Infectious Diseases Fellowship, and medical director for UW Health Immunization Programs.
Clinical Interests
Conway's projects involve training local professionals in the recognition and treatment of infectious conditions and improving systems for disease prevention, particularly through the strengthening of immunization programs. He has been involved with long-term field programs in Thailand, Kenya, Uganda, Ecuador, and Ethiopia along with collaborations in almost a dozen partner countries. He also works with UW Health science leaders to develop programs and partnerships for clinical education for health professional students and outreach around the world.
Conway oversees international opportunities for UW medical students involved in research through the Shapiro and SSRCA programs and directs the Extramural Clerkship in International Health for senior medical students, overseeing worldwide placement and providing academic preparation and orientation. He is a member of the MPH Program faculty.
A fellow of the American Academy of Pediatrics (AAP), Conway serves in the sections on Infectious Diseases and International Child Health. He received an AAP Special Achievement Award in 2009 for his immunization projects and another in 2016 for HPV Vaccine Advocacy. In addition, he has served as a Technical and Global Sustainability Advisor for a collaborative project between AAP and the U.S. Centers for Disease Control and Prevention since 2014. He represents the WI-AAP on the Wisconsin Council on Immunization Practice.
Conway is an active member of the Pediatric Infectious Diseases Society Vaccine Advocacy Committee. He has served on the American Board of Pediatrics SubBoard of Pediatric Infectious Diseases since 2018 and was elected chair in 2022 with his term scheduled to conclude in 2024. He was inducted into Alpha Omega Alpha Medical Honor Society in 2021.
Research Interests
Conway is involved as an investigator and consultant for numerous vaccine development projects in collaboration with pharmaceutical industry partners. Current active projects include development of COVID-19, pneumococcal, meningococcal, and RSV vaccines. He also has active collaborative projects addressing the causes and solutions to vaccine hesitancy. He received the UW—Madison Dean's Award for Excellence in Medical Student Research Mentorship in 2021.