Ryan Coller, MD, MPH
Position title: Associate Professor, Division Chief
Address:
Division of Hospital Medicine
For Academic Inquiries: (608) 265-5445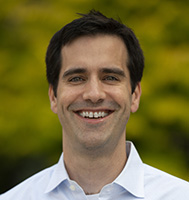 Education
BS, University of Wisconsin–Madison, Madison, Wisconsin
MD, Johns Hopkins University School of Medicine, Baltimore, Maryland
Residency, Pediatrics, University of California, Los Angeles, Los Angeles, California
Chief Residency, Pediatrics, University of California, Los Angeles, Los Angeles, California
Fellowship, Child and Family Health Training Program, University of California, Los Angeles, Los Angeles, California
MPH, University of California, Los Angeles, Los Angeles, California
Professional Activities
Dr. Ryan Coller is a tenure track associate professor and division chief in the Division of Hospital Medicine. His professional work includes service on editorial boards for the journals Pediatrics and Academic Pediatrics. He also serves on the National Quality Forum's committee in their mission to endorse patient experience and function measures. Mentoring faculty and trainees is an integral component of Coller's work. He has enjoyed serving as a national mentor for the Academic Pediatric Association's Quality and Safety Improvement Scholars and Young Investigator Award Programs.
Clinical Interests
Coller is a pediatric hospitalist interested in preventing hospitalization through innovative support for the healthcare delivered at home by families to children with chronic illnesses.
Research Interests
Coller is a physician-scientist who serves as the principal investigator (PI) of National Institutes of Health (NIH), Agency for Healthcare Research and Quality (AHRQ), and Health Resources and Services Administration (HRSA)-funded research programs. His research applies mixed-methods to design and test clinical interventions to improve family-centered outcomes for children with medical complexity. He serves as research director of the Pediatric Complex Care Program. In addition, Coller is the co-PI and director of primary data for the Children and Youth with Special Healthcare Needs National Research Network.