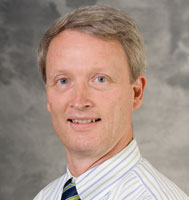 The University of Wisconsin School of Medicine and Public Health is a partner in a National Institutes of Health-funded initiative to improve medical education while building the health care workforce in Ethiopia.
Four Ethiopian health professionals from Black Lion Hospital in Addis Ababa – physicians Muluwork Tefera and Tigist Bacha, and nurses Tibebe Aweke and Bayush Teka – visited Madison this fall for a six-week fellowship, where they observed and learned about emergency medical services at UW Hospital and Clinics.
The NIH initiative builds on the School of Medicine and Public Health's existing twinning partnership to build emergency services in Ethiopia.
The first efforts were – and still are – in trying to prevent diseases that we just don't see much in the U.S., said Dr. Scott Hagen, an assistant professor of pediatrics who has made two trips to Ethiopia to provide education and patient care. "I think as they get a better handle on doing that, then the next step is providing care for patients who get sick despite those efforts, which is where we are in the western world."
Read More…