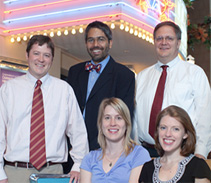 UW Department of Pediatrics Associate Professor and Vice Chair for Education John Frohna, MD, MPH, believes that residency education programs must prepare physicians for whatever career path they want—whether it be academic medicine or general private practice.
But regardless of the path chosen, Dr. Frohna also believes "there is always value in understanding the process of asking and answering a research question."
That's why, in 2009, the department created a formal research requirement for all its residents.
Under the guidance of a mentor, each resident formulates and completes a hypothesis-driven project based on his or her own interests. Projects can focus on laboratory or clinical research, quality improvement, advocacy, or education.
Residents then submit abstracts of their work to national meetings, submit manuscripts for publication, and make a formal presentation to the department.
The requirement "helps residents think more critically about what they're seeing in patient care, and how to translate that into potential research," Dr. Frohna said.
Four Trainees Shine
The same year this requirement was put in place, four trainees—two residents, two fellows—received national-level recognition for their academic work:
Resident Katherine Baker, MD, won the resident section of the American Academy of Pediatrics' National Conference and Exposition. Her poster, "11 year-old Female with Fever and Hemoptysis," was one of ten selected for presentation and published in Pediatrics in Review.
Fellow Daniel Jackson, MD, won the American Academy of Allergy, Asthma and Immunology's GSK Fellows Career Development Award. The award provides $50,000 to study the clinical severity and manifestations for rhinovirus infections throughout childhood and early adolescence.
Resident (now assistant professor and director of the department's pediatric advocacy program) Dipesh Navsaria, MD, MSLIS, MD, received the American Academy of Pediatrics' Special Achievement Award. He was recognized for his work as the Wisconsin chapter's resident liaison, for leading the Reach Out and Read program in the community, and for "ardent advocacy work to improve children's health." (In 2008, Dr. Navsaria was awarded $107,537 from the Ira and Ineva Reilly Baldwin Wisconsin Idea Endowment to further develop Reach Out and Read programs in underserved areas of Madison and in the AFCH neonatal intensive care unit.)
Fellow Lindsey Nicol, MD, was one of 25 trainees worldwide selected to participate in the 23rd Summer School of the European Society for Paediatric Endocrinology.
It's exceptional for one program to have four trainees achieve this level of success in a year, Dr. Frohna said. It certainly demonstrates the potential outcomes of the research requirement, as well as the caliber of physicians the program wants to continue recruiting.
Better Support, Deeper Mentoring
To further develop an environment attractive to top-notch residents, in 2009 the department also improved how it supports trainees.
First, residents now receive a financial stipend to help cover the costs of traveling to a meeting where they present their research.
Second, faculty mentors are now hand-paired with residents not just on shared professional interests, but also on family and lifestyle choices.
Dr. Frohna jokingly compared the process to internet dating, but the idea really is about deepening the relationship between mentor and resident.
"We chose mentors who could help residents understand what the future holds for them," Dr. Frohna explained. "For example, how do you balance work and home life, how do you keep up with the literature, what is it really like to be a practicing physician?"
Dr. Frohna thinks the change has been a way to formalize existing processes and harness faculty enthusiasm. "When you have enthusiastic teachers, people look beyond the requirements of the program and find ways to excel."