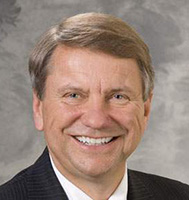 Robert Lemanske, MD, has been named the deputy executive director of the Institute for Clinical and Translational Research (ICTR) and associate dean for clinical and translational research at the UW School of Medicine and Public Health.
Dr. Lemanske will be working with Marc Drezner, MD, who has served as ICTR's executive director since its inception in 2007, to transition leadership. When Dr. Lemanske assumes the executive director role, Dr. Drezner will continue to serve as senior associate dean for clinical and translational research.
Dr. Lemanske has a long and distinguished history at UW-Madison. After completing his undergraduate and MD degrees here, he served as an intern and resident in pediatrics, and then completed a fellowship in allergy and immunology. Following a two-year research fellowship at the National Institute of Allergy and Infectious Diseases, he returned to join the UW-Madison faculty and rapidly developed a national reputation as a highly productive and innovative academician. His local, regional, and national honors reflect his outstanding accomplishments as a clinician, scientist, and teacher.
Most recently, Dr. Lemanske was elected president of the American Academy of Allergy, Asthma and Immunology. The transition into his leadership role in ICTR will accelerate as his commitments to this major national leadership role come to closure next winter.