The retina and the kidney share many developmental and disease-related abnormalities. Modulation of apoptosis is critical during development. Bcl-2 protects cells from apoptosis while Bim expression facilitates this process. The current focus of our laboratory is to understand the role apoptotic processes play in retinal and kidney vascular development and how they are aberrantly regulated during disease. Our ability to examine abnormalities in both organs, in parallel, enhances the design of appropriate treatment modalities for retinal or renal disease without compromising renal or retinal function.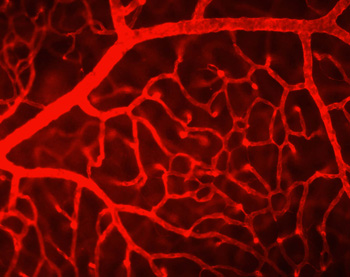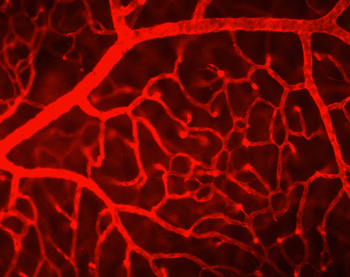 Apoptosis plays an important role during formation of the vascular network and pathological neovascularization. However, the physiological role Bcl-2 family members play during these processes requires further delineation. Mice deficient in Bcl-2 develop renal hypoplasia/cystic dysplasia. Renal hypoplasia/dysplasia/aplasia are the second leading cause of renal transplantation in children and is commonly lethal. More recently our research has focused on the role bcl-2 family members play during postnatal retinal vascularization and retinal and choroidal neovascularization (CNV), as occurs in retinopathy of prematurity (ROP) and age-related macular degeneration (AMD). Both ROP and AMD are major causes of blindness in the United States and the underlying mechanisms remain poorly understood.
The research in our laboratory exploits our unique ability to study both retinal and renal developmental changes and isolate vascular and non-vascular cells from transgenic mice to study in tandem. Our novel research has demonstrated that expression of Bcl-2 family member proteins not only impacts cell death but also many other cell specific functions.  The ability of pro- and anti-apoptotic proteins to influence these cell functions could have implications during development and disease. Alterations in cellular functions may lead to abnormal retinal and kidney development and various disease states. The knowledge gained from our studies will allow us to better understand the regulatory mechanisms in these organs and their alteration with various pathologies will aid the design of treatment modalities to intervene at earlier stages of disease preventing their development and progression with no or limited off target effects.
Current Projects
Determine the role Bcl-2 plays during choroidal and retinal neovascularization.
Determine the role Bim expression plays during postnatal retinal vascular development and remodeling.
Determine whether Bim expression is critical for hyperoxia-mediated retinal vessel obliteration.
Determine the protective role of Bcl-2 in lungs during hyperoxia-induced damage due to oxidative stress.
Research News
Christine Sorenson, PhD, distinguished scientist, Division of Neonatology and Newborn Nursery, conducts a line of research focused on understanding the role apoptotic processes play in vascular development and function. A recent R21 grant through the …

October 13, 2023
Christine M. Sorenson, PhD
Related Links