Immunotherapy is the process of using a component, or components, of the immune system to eliminate cancer.
University of Wisconsin and Immunotherapy Research for Childhood Cancer
Because of advancements in genetic engineering and in culturing cells, we can now produce more sophisticated immunotherapies that are more specific for pediatric cancer. At UW, research by Dr. Paul Sondel contributed toward the development of a monoclonal antibody against neuroblastoma, the most common solid tumor in children outside of the brain. This antibody, called ch14.18 or dinutuximab, binds to neuroblastoma and makes it a target by natural killer (NK) cells for destruction. By doing so, in phase III trials we observed an improvement in survival in children with stage IV neuroblastoma, the most advanced form of the cancer. Dinutuximab was FDA approved in 2015. Other similar antibodies are also being tested at UW, like the immunocytokine hu14.18-IL2 (see figure).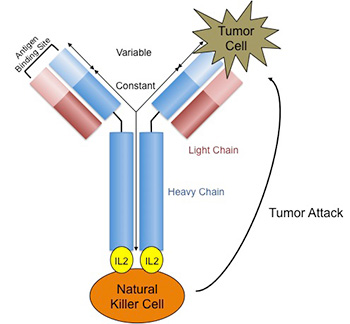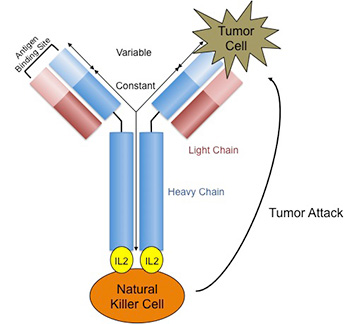 Dr. Ken DeSantes is infusing NK cells activated in the laboratory from the parents of children with neuroblastoma in combination with immunocytokine. NK cells are an important component of our body's immune system responsible for controlling both virally-infected cells and tumors. We believe giving NK cells in this fashion serves several important purposes:
Because NK cells are inactivated when they encounter "self" molecules (autologous), by using NK cells from a parent (allogeneic), we insure those NK cells will be mismatched to the patient's tumor, and therefore be better able to attack and kill it.
Combining the NK cells with immunocytokine re-directs the NK cells to the tumor, and provides a local stimulant (IL2) to the NK cells to help kill the tumor.
The Capitini Laboratory and Immunotherapy
Dr. Christian Capitini is simultaneously performing preclinical work studying ways to improve the efficacy of combining hu14.18-IL2 and NK cells in neuroblastoma after bone marrow transplant. In fact, they have already developed a novel way of tracking the infused NK cells using fluorine-19 MRI, an approach they would like to bring to the clinic in the coming years.
In 2013, UW was selected as one of 8 children's hospitals as part of a Pediatric Cancer Dream Team. The goal of this team is to (1) genetically sequence pediatric cancers to look for new targets on the surface of cancer cells that can be recognized by the immune system, and (2) to develop novel immunotherapies against these targets for the clinic. As part of this effort, Dr. Capitini was a site-Principal Investigator on multi-center clinical trials testing the efficacy of chimeric antigen receptor (CAR) T cells (called tisagenlecleucel) for childhood B cell acute lymphoblastic leukemia (ALL). Because of these efforts, Tisagenlecleucel was FDA approved in 2017 as the first gene therapy and cellular immunotherapy for cancer. UW is one of a limited number of hospitals to offer this therapy.
Additional innovative work is being done by Dr. Sondel, Dr. DeSantes and Dr. Mario Otto as part of the Pediatric Cancer Dream Team. To hear more about immunotherapy research and teaching by Dr. Capitini, please refer to the following videos:
Introduction to Immunology for the non-Immunologist
CAR T cell therapy approved for children and young adults with leukemia
University of Wisconsin picked as a site to provide promising and expensive cancer drug
Kymriah's journey from lab to lifesaver: the phase I trial (Part 1)
Kymriah's journey from lab to lifesaver: the phase I trial (Part 2)
Adoptive Cell Therapies for Pediatric Cancers: Merging Preclinical and Clinical Studies