"My interest in research developed organically during my time doing clinical work in Africa caring for children with HIV," stated Tony Garcia-Prats, MD, MSc, PhD (Divisions of General Pediatrics & Adolescent Medicine and Global Pediatrics). After residency, Garcia-Prats joined the Baylor International Pediatric AIDS Initiative (BIPAI) in 2006 and moved to Maseru, Lesotho, to work in BIPAI's pediatric HIV clinic.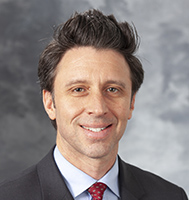 "The experience was transformative for me," reflected Garcia-Prats. "My colleagues and I were challenged daily by questions about how to optimally care for these children, but we lacked evidence-based guidance." Garcia-Prats and colleagues began developing a wealth of clinical experience and data that could help provide this evidence. "I realized that leveraging this data into high-quality evidence would be extremely valuable for improving the care of these children," added Garcia-Prats.
His dedication to improving the care of children in underserved areas throughout the world continues today in his research on the therapeutics of tuberculosis (TB) in children. Even though there is very little TB in Wisconsin or the United States overall, there are more than 1 million new cases in children globally each year. With more than 250,000 deaths annually, it is one of the top ten causes of child mortality worldwide. Garcia-Prats' research focuses on the pharmacokinetics, safety and acceptability of TB medicines in children, and on identifying the most effective treatment and prevention strategies that best combine these medicines together. 
Beyond these scientific questions, he is also interested in ways to accelerate pediatric access globally to child-friendly formulations of TB medicines and medicines for other diseases.  "My motivation for doing research is to impact the clinical care of children," stated Garcia-Prats. "One of the most exciting experiences is when my research has an impact on international recommendations."
In the last two years, a number of Garcia-Prats' findings have directly informed World Health Organization (WHO) TB treatment guidelines. This included a systematic review and individual-patient-data meta-analysis of all children treated for drug-resistant TB that informed the first WHO pediatric-specific drug-resistant TB treatment guidelines, and a study of linezolid pharmacokinetics and safety which informed the WHO's recommended dose and use of this medicine for drug-resistant TB treatment. Additionally, Garcia-Prats is leading a new Unitaid-funded project called BENEFIT Kids that includes multiple evidence syntheses, five clinical trials, and work on child-friendly formulations of TB medicines. The project will help improve access globally to better TB treatment for children.
Garcia-Prats' engagement in independent, hypothesis-driven research in pediatrics recently led to a new honor: being peer-nominated and elected to the Society for Pediatric Research (SPR). As a newly elected member, he will join an international society of multidisciplinary pediatric researchers. Membership marks the individual's standing as an internationally recognized pediatric researcher. It also provides a gateway for investigators to enhance their own research through annual conferences and journal publications. This interdisciplinary communication fosters advancements in the field of pediatric research, and ultimately, in the treatment and care of children.