During his fellowship training in pediatric critical care medicine at Duke University, it was interactions with children who suffered from acute respiratory failure and cardiac arrest that inspired Awni Al-Subu, MD (Associate Professor, Division of Critical Care) to enter research.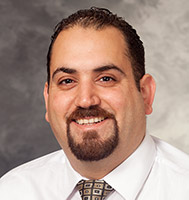 "While managing these critically ill children, I realized that we were in dire need of developing and utilizing accurate, real-time, noninvasive monitoring technologies of both oxygenation and circulation," stated Al-Subu. "This fueled my interest in studying the utilization of volumetric capnography and Near-Infrared Spectroscopy (NIRS) in the care of critically ill children, especially while managing Acute Lung Injury (ALI) and cardiopulmonary resuscitation (CPR)."
Al-Subu was drawn to the fields of ALI and CPR because both conditions rely heavily on understanding basic physiology to direct the use of advanced technology. In his clinical work, he found the treatment of children with ALI who suffer cardiac arrest to be particularly challenging.
"Despite decades of research into both fields, effective monitoring and therapy remained elusive, and our clinical role after such an injury was and is mainly supportive," said Al-Subu. "Therefore, I have focused my research efforts on finding ways to improve outcomes in children who suffer from ALI and/or cardiac arrest."
Over the last few years, Al-Subu successfully developed a preclinical experimental pediatric swine ALI and hypoxic ventricular fibrillatory arrest swine models.  Using these models, he investigated the use of both volumetric capnography and regional oxygen saturations to monitor dead space, optimize the effectiveness of CPR, and detect the return of spontaneous circulation (ROSC). Al-Subu and co-authors found that employing both volumetric capnography and two-site regional oxygen saturations can be used effectively to monitor CPR quality and detect ROSC.1,2
On a clinical research level, he has collaborated with Pediatric Acute Lung Injury and Sepsis Investigators, a research network of internationally recognized clinical and basic science researchers, as well as Pediatric Acute Respiratory Distress Syndrome Incidence and Epidemiology investigators. Additionally, he is currently collaborating with leaders in the field of mechanical ventilation to understand better risks associated with endotracheal intubations in the PICU and finding ways to optimize the use of both invasive and noninvasive mechanical ventilation.
Al Subu's engagement in independent, hypothesis-driven research in pediatrics recently led to a new honor: being peer-nominated and elected to the Society for Pediatric Research (SPR). As a newly elected member, he will join an international society of multidisciplinary pediatric researchers. Membership marks the individual's standing as an internationally recognized pediatric researcher. It also provides a gateway for investigators to enhance their own research through annual conferences and journal publications. This interdisciplinary communication fosters advancements in the field of pediatric research, and ultimately, in the treatment and care of children.
1 Al-Subu AM, Hacker TA, Eickhoff JC, Ofori-Amanfo G, Eldridge MW. Two-site regional oxygen saturation and capnography monitoring during resuscitation after cardiac arrest in a swine pediatric ventricular fibrillatory arrest model. J Clin Monit Comput. 2020 Feb;34(1):63-70. doi: 10.1007/s10877-019-00291-2. Epub 2019 Feb 28. PMID: 30820870; PMCID: PMC7223879.
2Al-Subu AM, Hacker TA, Eickhoff JC, Ofori-Amanfo G, Eldridge MW. Volumetric Capnography Monitoring and Effects of Epinephrine on Volume of Carbon Dioxide Elimination During Resuscitation after Cardiac Arrest in a Swine Pediatric Ventricular Fibrillatory Arrest. J Pediatr Intensive Care. DOI: 10.1055/s-0040-1712531