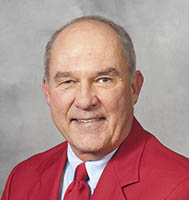 Philip Farrell, MD, PhD, emeritus professor of pediatrics and population health, received the 2014 University of Wisconsin Medical Alumni Association Distinguished Resident Award. The award honors an individual who has completed a residency or fellowship at the UW Hospital and Clinics and has achieved distinction in medicine.
Dr. Farrell has published numerous articles on epidemiology and the effects of nutrient deficiencies in preterm infants and patients with cystic fibrosis (CF), as well as the benefits and challenges that accompany newborn CF screening. In 2001, he was recognized for his efforts in pediatric nutrition with the American Medical Association's Joseph B. Goldberger Award in Clinical Nutrition.
He was a professor at UW-Madison for more than 30 years. He also served as chair of the Department of Pediatrics, medical director of the UW Children's Hospital (now called American Family Children's Hospital), dean of the UW School of Medicine and Public Health, and vice chancellor for medical affairs.