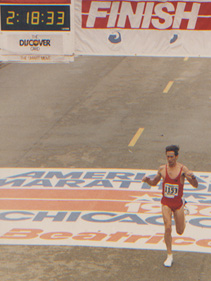 David Allen, MD, a professor in the Division of Pediatric Endocrinology and Diabetes, was bitten by the running bug during his pediatric internship year here at UW.
He'd been a runner on and off throughout high school and college, but when he arrived in Madison, he found that running helped him stay healthy and cope better with the intensity of residency training.
It wasn't long before he was competing in road races throughout the nation.
In 1984, he won the 20-mile Syttende Mai race from Madison to Stoughton—for the first of seven times. "Winning that [first] race was a turning point," he recalled. "It made me wonder how good I could be."
So he stepped up his training, waking early every morning to run before work. The result: a 10K time that kept dropping to a personal best of 29:36, two victories in the five-mile Crazylegs Classic, and representing Wisconsin in the 1986 National Super Run in Lake Tahoe, where he took fourth place.
Later in 1986, he ran a personal best of 2:17:25 at Grandma's Marathon in Duluth. He then completed the Chicago Marathon with a time of 2:18:33, which qualified him for the US Olympic Trials.
(He would later qualify for the 1992 Trials—as the oldest runner participating—by running 2:19 at the 1991 Twin Cities Marathon.)
Shifting From Growth to Fitness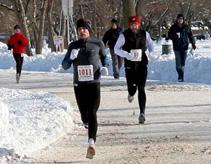 In the mid 1990s, Dr. Allen stopped competing in races, but he kept the running lifestyle.
His career began to hit its stride, too. He became the director of the pediatrics residency program, and launched research investigating the effects of human growth hormone in children with Prader-Willi syndrome, a genetic disorder that results in short stature and obesity. Together, he and fellow pediatric endocrinologist Aaron Carrel, MD, who had just joined the department as a fellow after training under Dr. Allen, wrote several seminal papers on the topic.
"When I got started in pediatric endocrinology, it was dominated by recombinant human growth hormone to increase height," he said. "But through this research, we found that body composition, fitness, and mobility are more important to children with Prader-Willi syndrome than height."
By the early 2000s, the obesity epidemic had become a clear public health challenge, and the division shifted its research focus toward pediatric obesity and diabetes prevention.
In addition to becoming the director of the pediatric endocrinology and diabetes fellowship, Dr. Allen at that time co-founded the Wisconsin Initiative for Prevention of Obesity and Diabetes (WIPOD), a collaboration of UW leaders committed to researching, treating, and preventing obesity-related disease.
His and Dr. Carrel's research also started to look more closely at the adverse effects of poor fitness—not just obesity—on children's health.
The shift represented a personal and professional convergence for Dr. Allen. "It was a natural interest for me to look at [children's health] from a fitness, not fatness, perspective," he said.
Creating a Healthier 'Default Environment'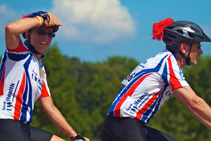 In addition to his clinical, research, and educational activities (for which he received the 2007 Accreditation Council for Graduate Medical Education's "Courage to Teach" award), Dr. Allen was the 2010-11 President of the Pediatric Endocrine Society.
He still runs each weekend, participates in recreational races like the Berbee Derby and the Jingle Bell Run/Walk for Arthritis, wakes early to exercise, and bikes to work.
What he wants children and their parents to understand is that fitness is less about athletic accomplishments and radical life changes, and more about making lifestyle changes to simply "move through the environment in a health-promoting way and resist the temptation to do everything automatically."
That holistic outlook is defining this phase of his career. He and American Family Children's Hospital (AFCH) Child Health Advocacy Director Nan Peterson, RN, MS, are currently working on an AFCH-led, county-wide childhood obesity prevention collaborative that aims to develop policies supporting healthier environments for children.
"The key challenge in tackling the public health problem of childhood obesity and poor fitness is not so much about creating more 'opt-in' opportunities for families who already have access to such programs," he explained. "Rather, it's about creating a pervasive healthier environment for children, and getting back to a way of life where there's a better balance between the energy we consume and the energy we expend."
"If we could make these changes in the day-to-day environment that all children live and move within…. well, just by living in it, they would generally be healthier. It seems to me that we adults have a responsibility to provide that for our children."