For the UW-Madison Genetic Counselor Training Program, there's no place like home—in Pediatrics.
The program, which had been part of the Department of Medical Genetics for 35 years, joined the Department of Pediatrics in the spring of 2010.
Now, with improved clinician access, administrative stability, and School of Medicine and Public Health (SMPH) backing, the program can better support its students, teachers, and staff—and remain at the forefront of an evolving profession.
The Path to a Clinical Home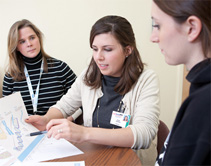 Genetics counselors provide information and support to families who have a member with a birth defect, or who may be at risk for an inherited condition. The profession requires advanced expertise in genetic science, plus skill and experience in counseling.
Although most genetic counselors work in hospitals and clinics, UW's training program had been part of the Department of Medical Genetics since 1976, when the program was created. The Department of Medical Genetics is a basic science department affiliated with both the SMPH and the Laboratory of Genetics at the UW College of Agriculture and Life Sciences.
Program director Catherine Reiser, MS, CGC, said this is not uncommon for established programs like UW's. "Most genetics departments started in ag schools—think Gregor Mendel and his pea experiments," she explained.
"It made sense historically, but our program and the profession have developed since then. We still need a connection to basic sciences, but we really need to be surrounded by clinicians and be a part of that system."
Improved Stability and Access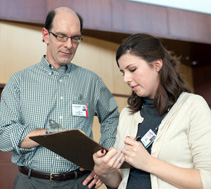 The move to Pediatrics has benefited the program in many ways. First and foremost, it provides financial stability and administrative support, which helps the program function more effectively.
It also provides easier access to clinicians working with children who have genetic disorders, and to researchers conducting clinical studies—a benefit to students and faculty alike.
"We had many of those connections before," said Reiser, "but when we're in the same department, it helps those relationships develop from the beginning."
Support for New Initiatives
The program's new home is also a source of support for new initiatives. For example, Reiser is on a state committee working toward mandatory licensure of genetic counselors in Wisconsin.
Most genetic counselors pass a national credentialing exam before beginning practice, but right now, only 13 states require licensing. Reiser is part of a national movement to change that, and those efforts are helped by strong departmental and institutional backing.
In the future, she also hopes to further develop the program's clinical research path through a collaboration with the SMPH's Institute of Clinical and Translational Research's (ICTR) Graduate Program in Clinical Investigation. Such a partnership will allow the program to become one of the few nationwide to offer a PhD for genetics counselors.
It's a big goal, but Reiser says it'll be easier to accomplish from a clinical home department.
"Our program already has an excellent national reputation for clinical training," she said. "But we also want potential applicants who are interested in research to see us as one of their top programs."