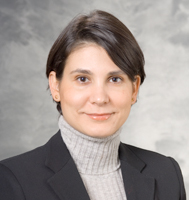 There are more than 10,000 academic staff on the UW–Madison campus. Each year, the university honors a select group of them for their achievements and dedication to excellence. Pelin Cengiz, MD, associate professor, Critical Care, is one of this year's recipients and was honored with the prestigious Chancellor's Award for Excellence in Research (Independent Investigator) during an invitation-only virtual ceremony earlier this month. 
In her groundbreaking research, Cengiz studies hypoxic-ischemic brain injury, one of the leading causes of illness and death in children and an area with a paucity of effective treatments. Specifically, she looks at the sex differences in developmental brain injuries of the very young.
Cengiz's scientific inquiries are informed and motivated by her experiences caring for critically ill children, while her innovative research program addresses one of the most important and understudied areas of children's health. She is, her colleagues say, the model for what a clinician-scientist should be.
"It is apparent to everyone who works with her that she is constantly striving to be both the best possible clinician, and the best possible scientist, that she can be," stated Peter Ferrazzano, MD, professor and division chief, Critical Care. "From beginning trainee to senior mentor, Dr. Cengiz's dedication to her patients and to her science inspires those around her to work to their highest potential, fully embodying the Chancellor's Award for Excellence in Research."
Cengiz's pioneering work has opened up an entirely new line of research in pediatric discovery, making her an internationally known expert in the field. Her research has been published in high-impact journals, presented at numerous international meetings, and honored with major awards.
Beyond her novel research, Cengiz has demonstrated exceptional leadership and team-building skills, bringing together a multidisciplinary team of investigators to conduct her project, and lending her expertise to numerous studies by other investigators. Her commitment to mentoring the next generation of physicians and scientists, with a particular focus on addressing issues of equity in sex, gender and socioeconomics, is especially inspiring.
During the COVID pandemic, she stepped up to lead the children's hospital workgroup on developing guidelines for the treatment of acute COVID and the associated Multisystem Inflammatory Syndrome in Children. Cengiz also serves as UW Site-PI on a multi-site clinical study of COVID-19 in children.
Congratulations to Cengiz and all nine recipients of the 2021 Academic Staff Excellence Awards.