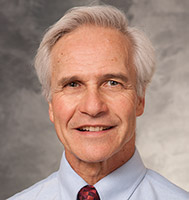 Congratulations to Paul Sondel, MD, PhD, on being awarded an R35 Outstanding Investigator Award (OIA) from the National Institutes of Health/National Cancer Institute (NIH-NCI) for his project entitled, "Enhancing Antibody-directed Innate Immunity to Improve Cancer Outcome." This 7-year award for over $6 million, will enable Dr. Sondel and co-investigators, including Jacquelyn Hank, PhD, Alexander Rakhmilevich, MD, PhD, KyungMann Kim, PhD, Erik Ranheim, MD, PhD, and Mark Albertini, MD, to collaborate on important research initiatives dedicated to the mutual goal of finding better treatments, via immune mechanisms, for cancer.
The research team has tested combinations of immunotherapies in mice, and has moved the most effective approaches into clinical treatment, benefitting some patients, including children with neuroblastoma. The group is now testing new combinations of immunotherapies that should each act in different ways, but are expected to be more effective when combined. The ultimate goal is to identify and refine combinations of "off the shelf" immunotherapies that can effectively eliminate cancer and prolong life for cancer patients worldwide.
The NIH R35 mechanism, which has not been awarded since 2001, is designed to provide long-term support to experienced investigators with outstanding records of cancer research productivity who propose to conduct exceptional research. The OIA is intended to allow investigators the opportunity to take greater risks, be more adventurous in their lines of inquiry, or take the time to develop new techniques.