Clinical Outreach
Our faculty provide pediatric specialty care at a network of UW Health facilities throughout Wisconsin and Northern Illinois.
View the full list of outreach clinics on the American Family Children's Hospital website.
Community Health and Advocacy
Through collaborations with public schools and community organizations, faculty and residents provide free asthma care, sports physicals and other clinical services for underserved children in the region. They also provide free health care for underserved children and adults through the University of Wisconsin School of Medicine and Public Health's MEDiC clinics.
As part of our residency program's community pediatrics and advocacy eXperience (CPAX) rotation, learners partner with local organizations to develop projects to improve child health, and engage in the legislative process through the Wisconsin Chapter of the American Academy of Pediatrics' Legislative Advocacy Day and the Wisconsin Medical Society's annual Doctor Day.
In addition, all of our continuity clinics participate in Reach Out and Read, a national program that trains primary-care clinicians to advise parents about the importance of reading aloud and gives books to children at pediatric checkups from six months through 5 years of age, with a special focus on children growing up in poverty. Dipesh Navsaria, MPH, MSLIS, MD, is the founding medical director of Reach Out and Read Wisconsin.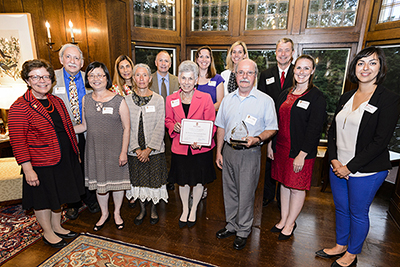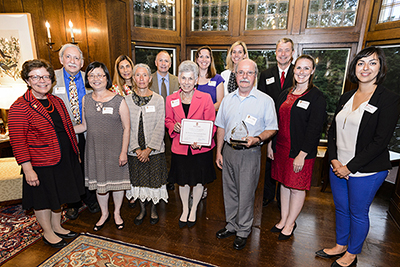 Christine Seroogy, MD, (fourth from left) and colleagues on the Wisconsin Plain Community Project received a 2017 UW-Madison Community-University Partnership Award from Chancellor Rebecca Blank. The award recognized their work to improve access to culturally sensitive, high-quality, affordable care for Amish and Mennonite families in Wisconsin. Read more…
Global Education and Service
Under the leadership of Sabrina Butteris, MD, Laura Houser, MD, and Nicole St. Clair, MD, our residency program offers a formal global health track comprising didactics, simulation, and hands-on experiences that take place domestically—for example, through a partnership with Madison's Centro Hispano or Indian Health Services—or internationally through partnerships in Ethiopia, Ecuador or Uganda.
Global health faculty also promote best practices in pediatric global health education through the SUGAR (Simulation Use for Global Away Rotations) and SUGAR PEARLS (Procedural Education for Adaptation to Resource Limited Settings) curricula, and through ongoing collaborations with the American Academy of Pediatrics, the American Board of Pediatrics, the Association of Pediatric Program Directors and the Midwest Consortium of Global Child Health Educators.
As director of the Office of Global Health at the University of Wisconsin School of Medicine and Public Health, and the associate director of the UW-Madison Global Health Institute (GHI), James Conway, MD, coordinates global health educational programs involving health professional students at UW-Madison, and oversight of international programs in the UW School of Medicine & Public Health.
He is also actively involved in projects to help improve immunization coverage in the U.S. and abroad. As the global immunization sustainability advisor for a collaboration between the American Academy of Pediatrics and the Centers for Disease Control and Prevention, he works to simultaneously strengthen pediatric professional societies and immunization programs in high priority countries in Africa and Asia.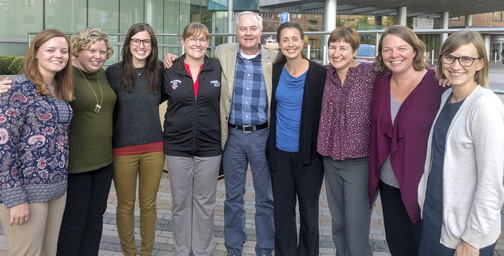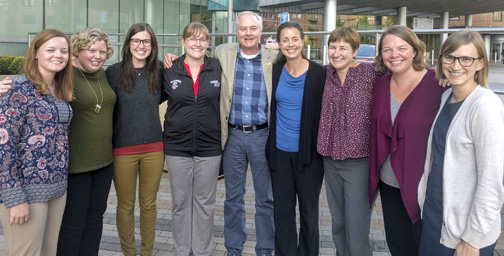 Department faculty, residents and staff piloted a global health education "boot camp" at an annual meeting of the Midwest Consortium of Global Child Health Educators. Read more…

Public Outreach
Through numerous community outreach activities, our faculty talk directly with children and families about ways to stay healthy and manage disease.
They also speak on behalf of regional and national coalitions, and demonstrate their expertise through media interviews, letters, and articles.
Their efforts help raise awareness of asthma, cystic fibrosis, endocrine disorders, food allergies, immunization, language development and literacy, obesity, and other health issues that affect children and adolescents.
Clinician Education and Professional Leadership
Our faculty provide outreach education on the latest trends in research and clinical practice for physicians, advanced practice providers and emergency medical services staff throughout the region.
At the national level, they present at continuing medical education programs and help organize professional education conferences.
They also advance the discipline of pediatrics through leadership roles at the American Academy of Pediatrics and its Wisconsin chapter, the American Board of Pediatrics, numerous subspecialty societies and National Institutes of Health study sections.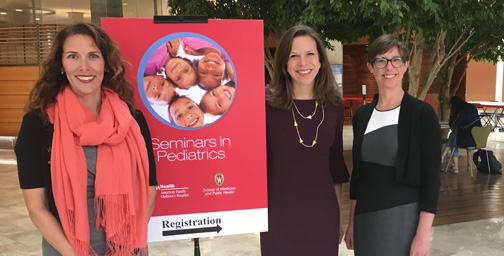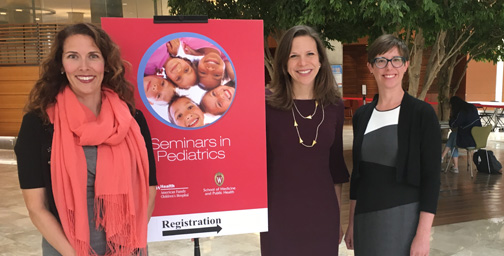 Kristin Shadman, MD, (left) and Brittany Allen, MD (right) welcomed pediatrician and immigrant child health expert Julie Linton, MD, FAAP, as the keynote speaker at our 2018 Seminars in Pediatrics course. Read more…