Q&A with Taylor House, MD, MS, assistant professor, Division of Nephrology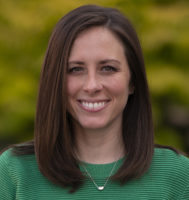 Hometown: Marmaduke, Arkansas
Educational/professional background: I earned my undergraduate degree from Arkansas State University and my MD from the University of Arkansas for Medical Sciences. I completed residency fellowship training, as well as earned an MS, at Seattle Children's Hospital and the University of Washington. I also completed a clinical certificate in palliative care at the University of Washington.
Previous position (title, institution): I just completed a fellowship at Seattle Children's Hospital/University of Washington before starting here.
How would you describe your work to a 5-year-old? Our kidneys are the parts of our bodies that help us make pee. I take care of kids with kidney problems.
What is your field of research or area of clinical care, and how did you get into it? My research centers on improving the quality of life and quality of care for children with kidney disease through integrating palliative care. I'm particularly interested in developing communication tools for adolescents and young adults and their families to empower them to have their illness burdens better addressed and to enable them to live the life they want for themselves. In fellowship, I was struck by the burdens of kidney disease on the kids I serve, and it seemed a natural fit to me to integrate palliative care, having done rotations in medical school and residency. There is still sometimes a misconception that palliative care means hospice or end of life care, but it is really holistic care focused on improving quality of life. I think we could all use more of that!
What attracted you to UW–Madison? The folks I met during my interviews were excited about their work and genuinely curious about how my research could impact the care we provide. I pretty quickly realized that I would be well supported here to best serve my patients.
What is your favorite thing to do in Madison? I have a 10-year-old Maltese-Yorkie mix, so we are enjoying exploring all the dog-friendly parks.
What's one thing you hope trainees will learn from you and your work? Whether it's in the ICU, the clinic, or in-box messages, I strive to be very intentional in my communication with patients and families. After working with me, I hope trainees will start to think about communication as a procedure we perform (just like a lumbar puncture, a central line placement, or a kidney biopsy). It takes a specialized skillset, requires practice and preparation; there are indications for communication, and we always have to consider the complications.
Do you feel your work relates in any way to the Wisconsin Idea? If so, please describe how. My research and clinical work centers on making sure that we don't just add years to kids' lives, but that we add life to their years. My goal is to ensure they can be active members of their communities, living the life they envision for themselves despite their kidney disease. That concept of influencing life beyond a particular setting (like the clinic or the hospital) resonates closely with the Wisconsin Idea.
What's something interesting about your area of expertise you can share that will make us sound smarter during video chats and parties? The kidneys filter all of the blood in your body about 40 times per day.
What are some of your hobbies and other interests? I am a new homeowner, so I'm enjoying lots of home improvement projects. I also love to read, bake, and travel with my husband of 11 years.