Q&A with Sarah Mc Dermott, DO, MBS, assistant professor, Division of Hematology, Oncology, and Bone Marrow Transplant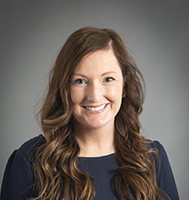 Hometown: Chicago Ridge, Illinois
Educational/professional background: I attended the University of Illinois Urbana-Champaign for my undergraduate degree with a double major in Molecular and Cellular Biology and Psychology and a minor in Chemistry. I went on to earn a Master of Science degree in Biomedical Sciences before completing medical school at the Chicago College of Osteopathic Medicine of Midwestern University in Downers Grove, Illinois. I completed my pediatric residency at Advocate Children's Hospital–Oak Lawn and went on to pursue a hematology-oncology fellowship at Children's Mercy Hospital in Kansas City. During my time at Children's Mercy, I developed an additional interest in coagulopathy and stayed on to complete a fourth year of fellowship in this area.
Previous position (title, institution): Assistant professor, Department of Pediatrics at Children's Mercy Hospital (during my fourth year of fellowship).
How would you describe your work to a 5-year-old? I help take care of sick children with cancer or other blood problems.
What is your field of research or area of clinical care, and how did you get into it? While still practicing general hematology-oncology, I will be focusing on vascular tumors, an interest I gained during my fellowship training.
What attracted you to UW–Madison? The wonderful people in this department! This truly is a team, and patient care always comes first.
What is your favorite thing to do in Madison? We have enjoyed all the fun things to do with a young family, such as the Children's Museum and the zoo. We moved to the area mid-winter and are excited to get more time outside this summer to really enjoy the area.
What's one thing you hope trainees will learn from you and your work? That the ability to listen is an important part of practicing medicine.
Do you feel your work relates in any way to the Wisconsin Idea? If so, please describe how. Proper education on the signs and symptoms to be aware of is very important in the hematology-oncology field. Oftentimes, these medical problems will be lifelong, and it is our job as providers to ensure that our patients and patients' families are aware of what this disease looks like now and in the future. Education is a large part of what we do.
What are some of your hobbies and other interests? Most of my time is spent chasing my one-year-old and three-year-old! Before kids, my husband and I really enjoyed traveling internationally. Many of my family members live in Ireland; someday, I hope to be brave enough to travel with young kids on an overnight flight back to see our family.