Q&A with Leanne Mansfield, MD, assistant professor, Division of Allergy, Immunology, and Rheumatology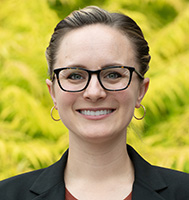 Hometown: Hastings, Michigan
Educational/professional background: I earned my BS in human biology and specialization in bioethics, humanities, and society from Michigan State University in East Lansing, Michigan, and I earned my MD from Wayne State University School of Medicine in Detroit. I completed the Pediatric Residency Program at Spectrum Health, Michigan State University, Helen DeVos Children's Hospital in Grand Rapids.
Previous position: In my previous position, I was a fellow in the Pediatric Rheumatology Clinical Fellowship at the Hospital for Special Surgery, New York Presbyterian-Weill Cornell Medicine in New York, New York.
What is your field of research or area of clinical care, and how did you get into it? I was first introduced to clinical rheumatology as a pediatric resident during an elective rotation. I was inspired by the thoughtful and comprehensive care the physicians provided to children with rheumatic (and often rare) conditions, as well as the long-term, rewarding relationships with patients and their families.
My clinical goal is to provide excellent care to children with rheumatic conditions by working with patients and their families to create management plans that lead to improved quality of life.
My research interests include autoinflammatory diseases and juvenile dermatomyositis.
How would you describe your work to a 5-year-old? I am a doctor who takes special care of children who get fevers, pain, rashes, and other problems that make it difficult to move and feel well. My goal is to get my patients back to school and having fun!
What attracted you to UW–Madison? The excellent clinical care, focus on education, and research opportunities first attracted me to UW-Madison. I was further impressed by the expertise and friendliness of everyone I encountered. I received a very warm welcome to UW-Madison and am so happy to be here.
What is your favorite thing to do in Madison? I enjoy walking and enjoying the natural beauty of Madison with my family.
What's one thing you hope trainees will learn from you and your work? I hope the trainees learn how important kindness is during all encounters with patients and their families, no matter how challenging or busy our day has been or will be.
Do you feel your work relates to the Wisconsin Idea? If so, please describe how. It is a privilege to help care for the children of Wisconsin, and it is crucial to treat children with rheumatic diseases so they can participate fully in their daily life activities, school, and play!
What are some of your hobbies and other interests? I enjoy going on adventures with my family, hiking, gardening, going to museums, and relaxing with a good book and a cup of tea.