Q&A with Jonathan Wong, DO, assistant professor, Division of Gastroenterology, Hepatology, and Nutrition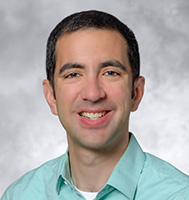 Hometown: Whitefish Bay, WI
Educational/professional background: Undergraduate degree from the University of Wisconsin–Madison; medical degree from Chicago College of Osteopathic Medicine; residency at the University of Connecticut; and fellowship at Medical College of Wisconsin in Milwaukee
Previous position (title, institution): Assistant Clinical Professor, University of Arizona
How would you describe your work to a 5-year-old? I help kiddos with belly problems. If it hurts to eat, if your stomach makes you feel sick, or if you're having trouble pooping, I'm your guy.
How did you get into your field of research or area of clinical care? My interest was piqued managing patients with polyposis syndromes. As I progressed with training, I developed a special interest in quality improvement and endoscopy.
What attracted you to UW–Madison? The sense of community and exciting growth.
What is your favorite thing to do in Madison? Hang out at a local brewery after hiking with my wife, daughter, and dog.
What's one thing you hope trainees will learn from you and your work? Pediatric GI is the closest subspecialty to general pediatrics but allows you to operate in a variety of environments. If you like growth and development, procedures, and taking care of sick inpatients, GI may be for you.
Do you feel your work relates to the Wisconsin Idea? If so, please describe how. I have a special interest in medical education. I've realized as a single physician I am limited by the number of patients I can see in a day. As an educator of future physicians, I hope to affect change on future generations as well.
What's something interesting about your area of expertise you can share that will make us sound smarter during video chats and parties?  Humans can't digest the cellulose in paper, but if they could, the average medical textbook would provide over 2000 calories!
What are some of your hobbies and other interests? Throughout all seasons I'm an avid runner. In the summer I enjoy biking both recreationally and as a commuter. In the winter my outside activity of choice is snowboarding. As the husband of a food scientist, I enjoy cooking, baking, and home brewing.