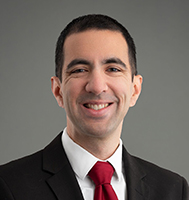 Education
BS, University of Wisconsin­–Madison, Madison, Wisconsin
DO, Chicago College of Osteopathic Medicine, Downers Grove, Illinois
Internship, Allegiance Health, Jackson, Michigan
Residency, Pediatric, Connecticut Children's Medical Center, Hartford, Connecticut
Fellowship, Pediatric Gastroenterology, Medical College of Wisconsin Affiliated Hospitals, Milwaukee, Wisconsin
Professional Activities
Dr. Jonathan Wong is assistant professor (CHS) in the both the Divisions of Gastroenterology, Hepatology, and Nutrition, and of Global Pediatrics. His interests include three broad categories­: pediatric gastrointestinal endoscopy, quality improvement, and global health. Wong is currently a member of the Endoscopy & Procedures Committee within the North American Society for Pediatric Gastroenterology, Hepatology and Nutrition ( NASPGHAN). He also serves as the Director of Endoscopy at American Family Children's Hospital.
Clinical Interests
Wong's interest in pediatric endoscopy is specific to diagnostic and therapeutic procedures, and also includes a focus on ensuring quality and safety. He also greatly enjoys educating students and trainees in both the medical school and GME arenas. Among his many goals is to develop pediatric subspeciality education and endoscopic skills in low-resource settings.
Research Interests
Previously, Wong has conducted research of chronic inflammatory disorders (eosinophilic esophagitis, inflammatory bowel disease) that investigates both optimal endoscopic evaluation and perioperative nutritional management. As a newer global health faculty member, he is looking forward to incorporating his interests into future research projects.