Q&A with Meghan Furstenberg-Knauff, MSN, FNP-BC, APNP, pediatric nurse practitioner/inpatient diabetes nurse practitioner in the Division of Endocrinology and Diabetes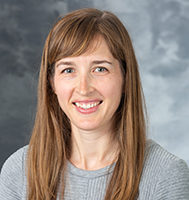 Hometown: Waupaca, Wisconsin
Educational/professional background: I worked as a nurse for five years at Children's Memorial Hospital (now Lurie Children's Hospital) in Chicago, Illinois, before becoming a nurse practitioner. I spent 11 years working in Pediatric Neurology, nine of which were here at AFCH, before deciding I needed something different. I started with the Peds Endo group in August 2022 and have never looked back!
What inspired you to pursue a career in nursing? My grandma was a nurse. She was a fabulous lady with a huge heart.
How would you describe your work to a 5-year-old? I help the body use the food we eat for energy when it's not working right.
What is your favorite thing to do in Madison? We love all that Madison has to offer — shows, good food, the lakes, spending time outdoors. Madison has all the things a BIG city has but on a much more accessible level.
What's one thing you hope trainees and students will learn from you and your work? We are all part of one team, working for our patients, with the goal of managing disease so they can achieve their goals in life. It truly takes a village.
What are some of your hobbies and other interests? When not working, I spend time with my husband and family exploring the outdoors by foot, ski, and bicycle. We host outdoor movie nights in our backyard during the summer and build snow forts during the winter. The kids and I are adding a small garden to a hill by our house and are excited to see what we might grow in the coming years.