Q&A with Jennifer Howard, MSN, APNP, NNP, in the Division of Neonatology and Newborn Nursery.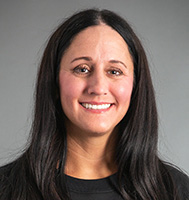 Hometown: Germantown, Wisconsin
Educational/professional background: I recently graduated with my master's degree from Alverno College and am a new neonatal nurse practitioner (NNP). I have been a nurse for 18 years: the first 14 of those years were in an adult cardiac ICU and the last four years were bedside in the NICU where I found my true love and passion — babies!
What inspired you to pursue a career in nursing? I was extremely close to my grandmother, and she was diagnosed with terminal cancer when I was 14 years old. I was impacted by how the nurses took care of her.
How would you describe your work to a 5-year-old? I help make sick babies feel better.
What attracted you to UW–Madison or UW Health? I already knew that Madison was a unique and beautiful city to visit. I wanted to challenge myself and try something new! I feel honored that I have the opportunity to be a part of the team at the best and busiest delivery hospital in the state. The fact that I get to work at both the level III NICU and level IV NICU is very rewarding.
What is your favorite thing to do in Madison? I love to try new restaurants, meet new people, and enjoy the stunning lake views.
What's one thing you hope trainees and students will learn from you and your work? Being a health care worker has its challenges, but the work we do is remarkable and truly leaves a lasting impression on patients and their families.
Do you feel your work relates in any way to the Wisconsin Idea? If so, please describe how. Nursing serves people in the community in relevant ways. Nurse–family partnerships foster healthy and happy communities.
What are some of your hobbies and other interests? I enjoy spending time with my two teenagers and traveling.