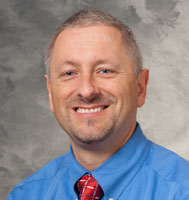 American Family Children's Hospital, part of the University of Wisconsin Carbone Cancer Center in collaboration with Cellectar Biosciences, Inc., is the first site in the nation to offer CLR 131, a systemically delivered, targeted radiotherapeutic for a broad variety of pediatric solid tumors, including neuroblastoma, sarcomas, lymphomas and brain cancers.
Cellectar Biosciences is developing CLR 131, which targetedly delivers high doses of radioactive iodine to cancer cells, killing them. CLR 131 has shown activity in multiple clinical trials of adult hematologic malignancies and in preclinical studies has demonstrated efficacy in a wide range of pediatric tumors.
Preclinical studies completed by co-principal investigator Dr. Mario Otto, associate professor of pediatrics in the division of pediatric hematology, oncology and bone marrow transplant, showed that in the test tube, a fluorescently labeled variant of this drug was concentrated in cancer cell lines to a much greater extent than in healthy, normal cells.
Additionally, CLR 131 showed efficacy in multiple xenografts models in which mice were implanted with different pediatric cancers. A single dose of CLR 131 resulted in better survival and slower growing tumors than seen in untreated mice.
"The current clinical trial is for children who don't respond to standard treatments or their cancer has come back, and there are no options that would have a reasonable chance for cure," said Otto. "If successful, CLR 131 could provide a beneficial treatment option for these children and their families."
Approximately 11,000 children and adolescents are diagnosed with solid cancers (including brain cancers and certain lymphomas) every year in the United States. Despite highly toxic treatments, about 1,600 of these children will die from cancer annually. According to the CDC (Center for Disease Control), cancer is responsible for more deaths in children than all other childhood diseases combined in the U.S.
The trial will be initially available only at American Family Children's Hospital in Madison, part of UW Health, with plans to offer the study at several additional pediatric hospitals across the U.S. within the next six to 12 months.