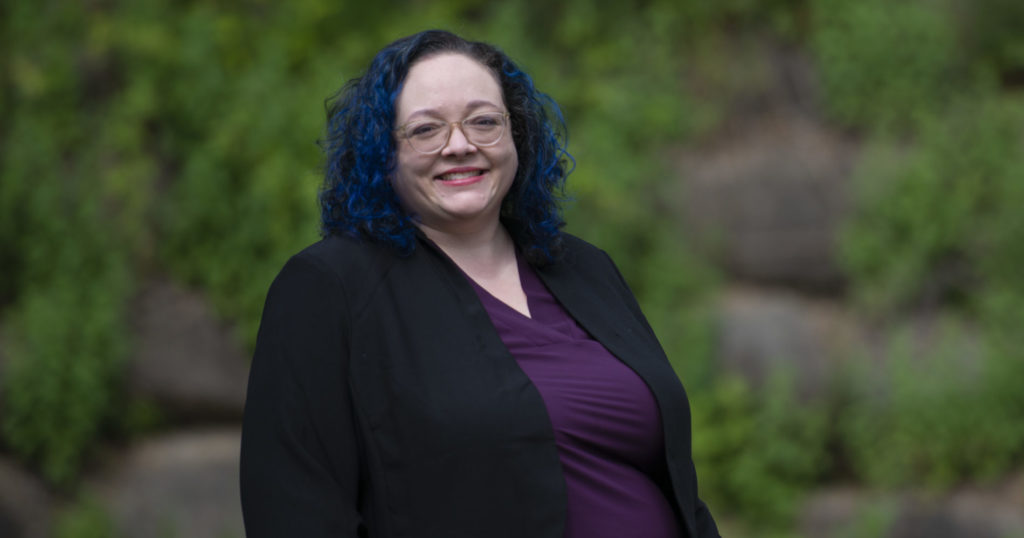 Less than one year ago, the University of Wisconsin­ Department of Pediatrics welcomed a new faculty member with an innovative focus on adolescent health. Ellen M. Selkie, MD, MPH, assistant professor, General Pediatrics and Adolescent Medicine, arrived from the University of Michigan with her research lab, Learning More from Adolescents Online, or LMFAO, in July 2021. She joined the department to teach as well as to serve as an adolescent medicine provider in UW Health Kids' Pediatric and Adolescent Transgender Health (PATH) Clinic.
Selkie decided early that medicine would be her path. She completed her undergraduate education at Ohio's Denison University, where she graduated summa cum laude in English literature while also fulfilling her pre-med requirements. Selkie returned to Wisconsin to attend the University of Wisconsin–Madison's School of Medicine and Public Health (SMPH), where her pediatrics rotation generated an "aha moment" and her choice of specialty. She earned her medical degree in 2008 and immediately entered the Master of Public Health (MPH) program.
It was during her MPH program that she met Megan Moreno, MD, MSEd, MPH, professor of pediatrics and division chief of General Pediatrics and Adolescent Medicine, and learned more about investigating social media's effects on adolescents. Selkie completed her MPH capstone project with Moreno. That work became the subject of her first published research paper addressing adolescents' use of social media, which she co-authored while she completed her pediatric residency at the University of Minnesota, Twin Cities.  A subsequent three-year fellowship in adolescent medicine at Seattle Children's Hospital offered her diverse experiences with active scholars and research methods in the field. Indeed, the complex intersection of social media and adolescence captured Selkie's imagination and became the primary focus of her research efforts.
After her fellowship in Seattle, Selkie sought an academic position closer to her Wisconsin family. She accepted a position at the University of Michigan in Ann Arbor and developed her LMFAO research team in 2015. She recognized that social media was becoming an intrinsic, essential part of most adolescents' lives. It provided a means of social connection and communication and was rapidly evolving into a constant presence—potentially an active agent—in their emotional and psychological development. Most importantly for researchers, social media in most cases leaves a record. The sites used by adolescents have allowed Selkie and other researchers to investigate adolescents' actual interactions, which they had only scant or second-hand knowledge of previously.
When a new faculty position opened within SMPH's Department of Pediatrics in 2021, Moreno encouraged Selkie to apply. She knew Selkie's compassionate focus, tenacity, and innovative thinking could only enhance the division. "Dr. Selkie brings unique strengths to our department through her work with vulnerable adolescents in both clinical and research settings," explained Moreno. "Her research focus on the health impacts of peer relationships brings new perspectives to how adolescents can grow and thrive." Selkie accepted the position and joined the Department of Pediatrics in July 2021, moving her LMFAO lab with her. In addition, her research coordinator accompanied her as part of the position.
Selkie is most interested in how social media can be used as a positive influence for youth development and well-being. While several of Selkie's and LMFAO's published research studies examine topics such as cyberbullying and excessive internet use, other studies address transgender adolescents' use of social media for social support. Selkie has also published journal editorials on such topics as gender diversity and adolescent well-being, and the significance of smartphone ownership among adolescents.
A current LMFAO project is investigating social media's implications for socio-emotional well-being of transgender and gender diverse youth and their parents. "Social media is a hot topic generally," said Selkie, "and there is wide-spread concern about teenagers' well-being as they engage with it." You can learn more about this project and Selkie's research lab by visiting the LMFAO research website.