Every Friday morning, pediatric cardiologist Amy Peterson, MD, sees children who, due to family history, medical conditions, or obesity, are at greater risk for heart disease when they become adults.
Reducing or eliminating those risks is the goal of the American Family Children's Hospital pediatric preventive cardiology clinic (PPCC). Dr. Peterson founded the PPCC in 2010, and is the primary provider there, along with pediatric nurse practitioners Ann Dodge, PNP, and Erin Marriott, PNP.
This year, updated pediatric cholesterol screening guidelines and an increased awareness of pediatric cardiovascular health have led the clinic to expand its hours and add an outreach site in Appleton, Wisconsin.
Universal Screening Drives Growth
The driving force behind the clinic's growth was the American Academy of Pediatrics' recommendation in late 2011 that all children—regardless of risk—have their cholesterol checked between age 9 and 11, and again between age 17 and 21.
In the past, only children with a strong family history of heart disease, diabetes, or other high-risk medical conditions were routinely screened for cholesterol problems. But under those guidelines, many children were undiagnosed, Dr. Peterson said.
"Even if you could screen 100 percent of children who have a family history of heart disease or a related medical condition," she explained, "studies have shown that you're going to miss about half of the children who have a serious cholesterol problem."
Research shows that normalizing cholesterol levels in children helps prevent atherosclerosis and cardiac events when they are adults.
Read Dr. Peterson's review article on pediatric dyslipidemia screening guidelines from the December 2012 issue of Wisconsin Medical Journal.
Indeed, as community pediatricians have begun implementing the new screening guidelines, more children are being referred to the PPCC. The clinic now sees children every Friday morning, up from three Fridays per month, and in November, began evaluating children every other month at the pediatric cardiovascular medicine outreach clinic in Appleton.
Evaluating Risk, Tailoring Interventions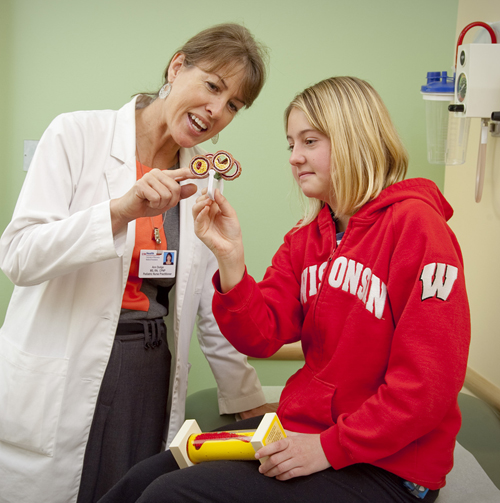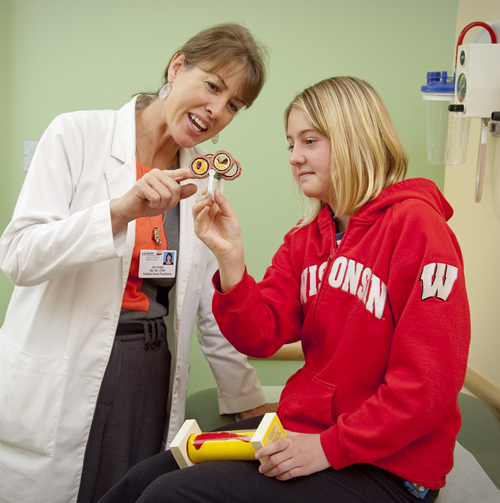 Children referred to the PPCC (view referral guidelines) first undergo a complete evaluation by a physician, pediatric nurse practitioner, and nutritionist.
The care plan is then tailored to each child's specific situation. Children whose high cholesterol is due to familial hypercholesterolemia or another medical condition may be prescribed a cholesterol-lowering drug.
In most cases, however, high cholesterol is related to lifestyle factors. "With the pediatric obesity epidemic being what it is, we're starting to see obesity-related lipid problems a lot earlier," Dr. Peterson said. "That's brought the whole issue of pediatric cholesterol to the forefront."
'An Environment for Success'
For those children, the clinic emphasizes what Dr. Peterson calls "intensive lifestyle therapy."
Children work closely with the clinic's nutritionists to learn about heart-healthy diets, receive discounts to local gyms, and may be referred to the UW Health Pediatric Fitness Clinic.
The key is to start small, Dr. Peterson said. For example, a child who simply cuts out sugary beverages will, in time, lose some weight, feel better, and see an improvement in cholesterol levels. These positive results go a long way toward encouraging permanent lifestyle changes.
Whenever possible, the clinic tries to help the child take charge of his or her own health. But sometimes, the whole family needs to work together.
"We try to empower the children," Dr. Peterson said, "but we also help the parents create an environment for success."