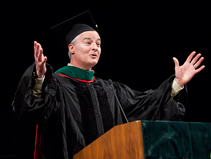 "Be an agent of change."
It's a simple message, but in medicine, as in life, it can change the world.
It's also the message James Conway, MD, an associate professor in the Division of Pediatric Infectious Diseases, wanted this year's graduates of the School of Medicine and Public Health (SMPH) to carry with them as they begin their medical careers.
Chosen for the "Last Lecture"
Dr. Conway delivered his address at the SMPH's Recognition Ceremony, held Friday, May 18, 2012, at the Wisconsin Union Theater.
The Recognition Ceremony precedes the University's formal commencement program. It's an opportunity to acknowledge and celebrate the Class of 2012's investiture into the medical profession. During the ceremony, each graduate receives an academic attire hood signifying the medical degree.
Every year, the graduating class chooses the speaker for the ceremony. In his introduction, SMPH Dean Robert Golden, MD, said, "My compliments to the Class of 2012 for your wisdom in selecting Dr. Conway to deliver the 'last lecture' that you will receive as students in the UW School of Medicine and Public Health."
(Later in May, after the SMPH graduation, Dr. Conway also received the UW Health Clinical Educator Excellence Award.)
"Be an Enzyme"
Themes of change rippled through Dr. Conway's address: change in one's professional career, in our understanding of science, and in the evolution of institutions and systems.
Dr. Conway clearly has been no stranger to change. He learned a big lesson about it early in his academic career, when he left bench research to focus on clinical medicine and education.
"It's OK to change your mind," he told graduates. "But even when you leave things behind, you will take lessons and skills with you. My legacy from research? A fondness and respect for enzymes. Fascinating little molecules—agents of change!"
That lesson helped him again later, when his career interests expanded to include preventive medicine and global healthcare system improvement.
By the time he came to the SMPH six years ago, he had learned, taught, and worked in over a dozen institutions in the US and abroad.
In addition to his work as a clinician and educator, he's been involved with long-term public health field projects in Thailand, Kenya, Ethiopia, and Uganda, and is now the associate director for health sciences at the UW-Madison Global Health Institute.
"We are all people of change," he said, "choosing a field where we can change people's lives, at an institution that embraces change. And we share the opportunity to continue to change ourselves, to change healthcare, and to change the world."