The University of Wisconsin Department of Pediatrics welcomed Eric Post, PhD, ATC, as its Grand Rounds speaker for the 2018 Alexander M. Iams Lectureship in Pediatric Practice, held May 10, 2018.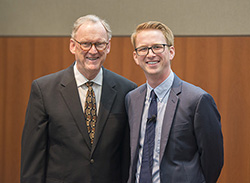 Dr. Post is an athletic trainer at the University Health Services Athletic Training Clinic, a research assistant in the UW-Madison Wisconsin Injury in Sport Laboratory and a lecturer in the Department of Kinesiology.
His presentation, "The Who, What, and Why of Sport Specialization," educated attendees on the prevalence, factors and injuries associated with youth sport specialization, defined as "year-round intensive training in a single sport at the exclusion of other sports."
Dr. Post shared data showing that about 36 percent of high-school athletes specialize, with higher percentages seen at large schools; among female athletes; among those who play volleyball, soccer and basketball; and among students from higher-income families. Those who specialize are at higher risk for overuse injury, especially in the upper extremities.
He also cited studies showing that while students and parents often perceive that sport specialization increases their child's chances for a college athletics scholarship, less than 0.5% of youth athletes actually play at the college level.
Dr. Post concluded by sharing American Academy of Pediatrics recommendations that parents delay their children's sport specialization until age 15-16, to monitor that elite sports programs aren't over-stressing their child and to encourage their children to take time off from their sport each week and for three months per year.
View the full presentation at the SMPH Video Library
The Iams program continued later that day with a facilitated American Board of Pediatrics (ABP) MOC Part 2 activity, "Pediatric Infectious Diseases Self-Assessment," led by Greg DeMuri, MD, and Emma Mohr, MD, PhD. It concluded that evening with a pediatric community reception at the Health Sciences Learning Center.
The Iams lectureship is named after Alexander M. Iams, MD, who practiced pediatrics in Madison from 1948 until his death in 1984. His friends and family established a memorial fund in his honor to establish and maintain an annual lecture series on the practice of pediatrics that promotes camaraderie between community pediatricians.
The lectureship is funded through the generosity of the Pediatric Founders' Fund of the Meriter Foundation, Meriter UnityPoint Health, and University of Wisconsin School of Medicine and Public Health Department of Pediatrics.