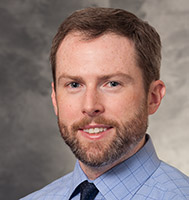 Under the leadership of Daniel O'Connell, MD, faculty in the Division of Pediatric Gastroenterology and Nutrition are now participating in ImproveCareNow, a worldwide quality collaborative network that aims to improve care for children with Crohn's disease and ulcerative colitis, the two main types of inflammatory bowel disease (IBD).
They are among 950 clinicians and researchers from more than 100 clinical sites in the U.S. and abroad who have joined the network.
Members share standardized de-identified patient clinical data, outcomes, tools and evidence, which the network uses to develop clinical quality guidelines aimed at getting more patients in remission, reducing symptoms and improving nutrition and growth.
A network-mentored QI project that Dr. O'Connell launched at UW Health is already improving care for approximately 50 children with IBD who receive the drug REMICADE® (infliximab) through infusions.
Traditionally, those infusions were given slowly, and took an average of two hours and 47 minutes to complete.
But when Dr. O'Connell's team implemented a new rapid-infusion protocol developed under the mentorship of ImproveCareNow quality coaches, that time was reduced by about an hour and a half, with no additional side effects.
That means more efficient use of staff, equipment and space—and a better experience for patients, who can spend less time away from home, school or work.
In addition, the network provides the nearly 30,000 member patients and families with tools for living with IBD, access to patient advisory councils and working groups, and an online support network of others who have the disease.
As of April 15, 2018, approximately one-fourth of the eligible 180 UW Health pediatric IBD patients have been enrolled in ImproveCareNow. The team plans to enroll the remaining patients and families during routine clinic visits throughout the year.
Dr. O'Connell is grateful to division chief Luther Sigurdsson, MD, and colleagues throughout the division and UW Health for their support in joining the network.
"Participation in this network is a way to optimize outcomes for this vulnerable population with high needs," he notes. "It helps us standardize care, learn from groups around the world, share our good ideas, and keep the patient in the center of it all."