Although nearly 60 percent of U.S. pediatric residency programs offer some type of global health experience, there is considerable variability in how they prepare residents for the clinical, emotional and ethical challenges they may face in a resource-limited setting.
The Midwest Consortium of Global Child Health Educators, co-founded in 2010 in part by University of Wisconsin Department of Pediatricsfaculty Sabrina Butteris, MD, and Nicole St. Clair, MD, is working to fill those gaps.
On October 2, 2017, representatives from its seven participating institutions—including nine UW Department of Pediatrics faculty, residents and staff—piloted a full-day "boot camp" that aims to ensure that learners are as ready as they can be for global health experiences.
A Focus on Simulations, Skills, Culture and Ethics
During the pilot, eight medical students, 12 residents and one practicing pediatrician participated in case simulations and skills workshops that mimicked scenarios encountered in global health experiences. For example, they practiced how to provide bubble continuous positive airway pressure (CPAP) so that they could more confidently treat an infant in respiratory distress without a ventilator.
Rounding out the pilot were discussions on culture shock, wellness and ethics—issues that affect learners working abroad, but that might be difficult to imagine ahead of time. Considerations included how to refrain from judgement of local medical customs, ways to appropriately communicate with stateside colleagues over social media and how to prioritize treatment options when resources are limited.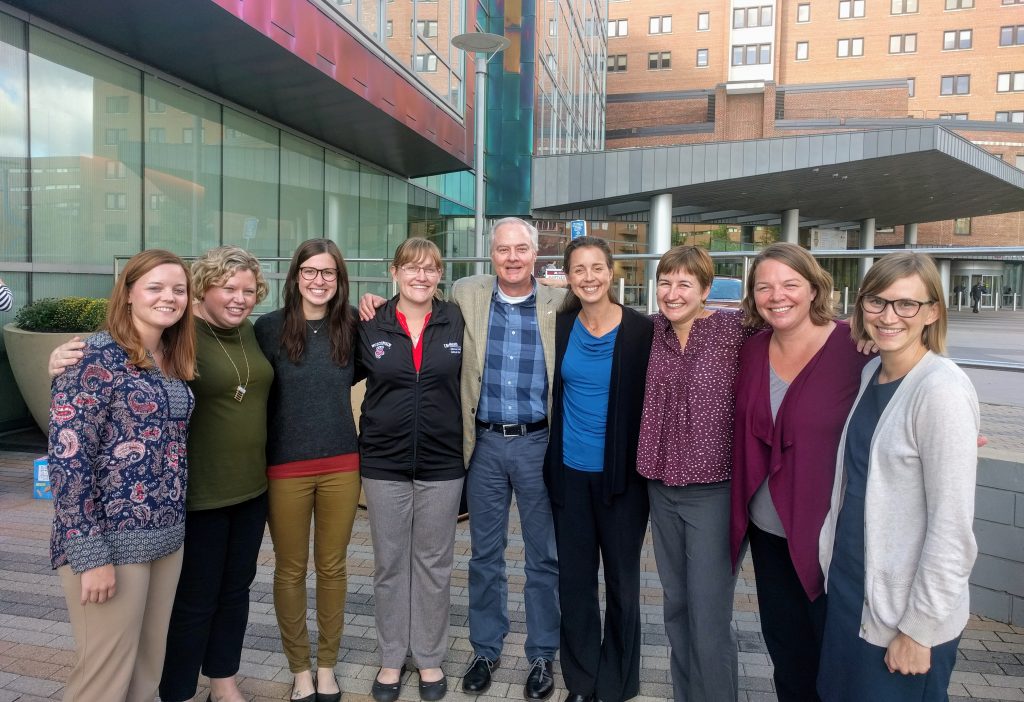 The boot camp brings together tools and best practices already developed by Consortium members, including the Simulation Use for Global Away Rotations (SUGAR) curriculum that Dr. Butteris and University of Minnesota colleague Michael Pitt, MD, launched in 2013.
October's meeting was the first opportunity to test the full boot camp—which will be called SUGAR Predeparture Activities Curricular Kit (SUGAR PACK)—with learners, whose initial evaluations were positive. Next, the team will fine-tune the boot camp and package it, along with associated "train-the-trainer" materials, for online dissemination.
"It will be a comprehensive pre-departure curriculum for global health electives, paired with facilitator materials to help other global health educators roll out the curriculum and, if needed, adapt it for their own institutions," explains Dr. St. Clair.
Academic Publications and a Call for Standards
Drs. Butteris and St. Clair are also involved in broader efforts to educate U.S. pediatricians on global child health issues.
As chair of the American Board of Pediatrics (ABP) Global Health Task Force, Dr. Butteris, along with Maneesh Batra, MD, MPH, a colleague from the University of Washington, are co-leading the development of a series of manuscripts slated for submission to Pediatrics.
The first published article in the series, "Partnerships for Global Child Health," reviews the history and current scope of global health partnerships, suggests ethical and public-health principles for those partnerships, and highlights areas for future research.
The second published article, "Global Health: Preparation for Working in Resource-Limited Settings" (lead author: Dr. St. Clair), outlines current efforts and challenges in preparing learners for resource-limited global heath settings. It also summarizes the top 10 issues that clinicians should consider before engaging in global health activities, and makes suggestions for future standards.
Subsequent articles currently undergoing peer review focus on the role of pediatric departments in improving global child health, and ways pediatricians can meaningfully engage in global health.
In addition, Dr. St. Clair is the lead editor on a guide to global health in pediatric residency education. The guide, currently in development through an ABP Global Health Task Force trainee workgroup, will serve as a resource for pediatric residency directors who wish to provide meaningful global health education for residents.