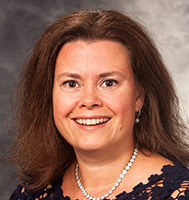 Dr. Inga Hofmann, a pediatric hematologist-oncologist and director of pediatric stem cell transplantation at the Carbone Cancer Center and medical director of the program for advanced cell therapy, has been awarded $50,000 by the St. Baldrick's Foundation.
The infrastructure grant supports her work in advanced cellular therapies for pediatric cancer and predisposition syndromes.
"I am honored to receive this prestigious award," said Hofmann. "This gives us the resources to give more children the opportunity to participate in clinical trials."
The St. Baldrick's Foundation said most infrastructure grants support research personnel who are responsible for opening and coordinating clinical trials. The grants are made in geographic areas where the need is high and St. Baldrick's volunteers are active.