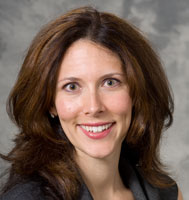 Kristin Shadman, MD (Associate Professor (CHS), Director of Continuing Professional Development, Division of Hospital Medicine) is one of four faculty members delivering the Opening Lecture at Pediatrics Research Week. We sat down with Dr. Shadman to learn more about quality improvement research methods and her research interests. Learn more about her in the Q&A below.
Q: Describe your research interests.
I am interested in systematically improving the care of hospitalized children through safe, consistent, and effective delivery of evidence-based care using quality improvement methods. I have had a broad range of clinical interests that are supported by my quality improvement research including: bronchiolitis, asthma, eating disorder management and the infant safe sleep environment in hospitalized settings. Clinical research may take 10-15 years to move into day-to day practice. Using quality improvement research, we can complement clinical research by translating what is known as best practice into the complex and dynamic clinical environment.
Q: Why is this research important?
This [research] is particularly important for children since many conditions occur to a small number of patients. Quality improvement methods allow us to examine that care both at our own institution, as well as benchmark it with other institutions to ensure that we are providing the very best care for our patients.
Q: What excites you most about the future of this research?
The most exciting part of this work is that quality improvement research methods have become increasingly accessible to all of us, which is driving collaboration and enthusiasm for systematically improving the care of our patients.
About Pediatrics Research Week
Pediatrics Research Week is an annual celebration of scholarship and the latest advances in pediatric research. Learn more by visiting the Pediatrics Research Week webpage.