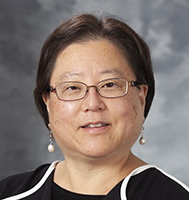 Katryn Furuya, MD (Professor, Division of Gastroenterology, Hepatology & Nutrition) is delivering the distinguished Gerard B. Odell Lecture and Grand Rounds Presentation during Pediatrics Research Week (May 26-29, 2020). We sat down with Dr. Furuya to learn more about her research into pediatric liver disease:
Q: Describe your research interests.
My research interests involve metabolic liver disease (such as cholesterol ester storage disease, Wolman disease and congenital disorders of glycosylation), biliary atresia, primary sclerosing cholangitis, liver transplantation and in fact, any liver disease that affects children.
Q: Why is this research important?
Just a few short years ago, not much was known about the causes of pediatric liver disease – this has changed dramatically with the advent of whole exome sequencing, genetic testing and treatments such as enzyme replacement therapy.
Q: What excites you most about the future of this research? This is an extremely exciting area that is under development and will serve to provide improved clinical care for children with liver disease.
About the Gerard B. Odell Lecture
The Odell Lecture is named for Gerard B. Odell, MD, who directed the Department of Pediatrics' Division of Gastroenterology and Nutrition from 1976 through 1991. Dr. Odell was internationally recognized for his research in the field of neonatal jaundice and bilirubin metabolism, and was highly influential in improving the quality of care for newborns and children with liver disease.
The Gerard B. Odell Research Award is given to an assistant or associate professor of pediatrics in recognition of outstanding research accomplishments and demonstrated potential for future contributions. Dr. Pelin Cengiz (Associate Professor (CHS), Division of Critical Care) will be presented with this year's Gerard B. Odell Research Award.
About Pediatrics Research Week
Pediatrics Research Week is an annual celebration of scholarship and the latest advances in pediatric research. Learn more by visiting the Pediatrics Research Week webpage.