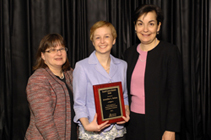 The Society for Pediatric Research (SPR) considers the research of Endocrinology and Diabetes fellow Jennifer Rehm, MD, among the best in the nation.
On May 2, 2011, Dr. Rehm was one of three fellows who received the SPR's 2011 Fellow Clinical Research Award at the group's annual meeting in Denver. She was honored for her research on early detection of fatty liver disease in overweight adolescent girls.
Fatty liver disease affects 28 to 38 percent of overweight children, and is predicted to become the leading cause of liver failure.
Dr. Rehm's study found that a noninvasive imaging technique called quantitative MRI fat fraction could identify the disease in its early stages, even before liver enzymes became elevated. It also showed that waist circumference, not Body Mass Index (BMI), is a better predictor of the disease.
"Fatty liver disease is a serious problem, and we don't currently have a reliable method for early detection and intervention," Dr. Rehm said. "Through this study, we can start to understand its origins, and find ways to prevent and treat it."
Dr. Rehm's award sponsors were Professor David Allen, MD, and Associate Professor Ellen Connor, MD.
What's more remarkable is that the SPR award isn't the only feather in Dr. Rehm's cap. In 2010, she received a $15,000 Endocrine Fellows Foundation Award, which helped support the research for her SPR abstract.
Earlier this year, Dr. Rehm also received a $50,000 Research Fellowship Award from the Pediatric Endocrine Society. This award will help support her final year of research training and allow to her to further prepare for a career in academic pediatric endocrinology.
Congratulations to Dr. Rehm for her outstanding accomplishments!