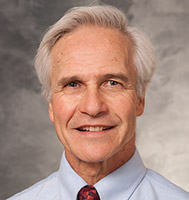 Paul Sondel, MD, PhD, has been awarded the top prize in the field of cancer immunology.
The Society for Immunotherapy of Cancer (SITC) announced that Dr. Sondel received the group's top award for decades of work in developing immunotherapies for childhood cancers, especially neuroblastoma.
"This award is well-deserved for Dr. Sondel's outstanding career, which has seen great improvement in outcomes for children with cancer," says Dr. Howard Bailey, director of the UW Carbone Cancer Center. "Through his work in the lab and clinical trials, Dr. Sondel has helped usher in new treatments that are saving the lives of children everywhere."
Dr. Sondel's research has emphasized the translation of laboratory innovations into clinical progress. His laboratory has pursued the biology of graft-versus-leukemia reactions, activation of antitumor immune destruction with Interleukin-2 and the use of tumor reactive monoclonal antibodies and immunocytokines to facilitate tumor killing by leukocytes. He has published more than 370 scientific articles and chapters, and many of these studies have moved into clinical testing.