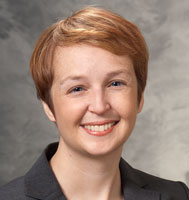 Jennifer Rehm, MD, co-medical director of the Pediatric and Adolescent Transgender Health Clinic at American Family Children's Hospital, was quoted in a recent WebMD article on ways to support children who may be transgender.
The article noted that doctors recommend parents find a therapist who specializes in gender issues as early as possible if they sense gender is a source of conflict for their child.
A lot of parents don't seek treatment because they're hoping this is a phase, or they don't want to do treatment that will cause harm for their child. [But] there's harm in doing nothing as well, Dr. Rehm said.
She also explained the importance of setting up medical care well before puberty, emphasizing the need for a plan to keep the child safe and address mental health concerns as well as physical ones.