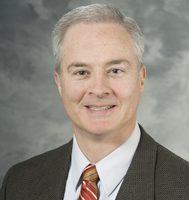 University of Wisconsin Department of Pediatrics Professor (CHS) James Conway, MD, along with UW Carbone Cancer Director Howard Bailey, MD, and UW Department of Human Oncology Assistant Professor Randy Kimple, MD, was quoted in a Milwaukee Journal Sentinel article on the importance of vaccinating children for human papillomavirus (HPV).
In the article, Dr. Conway, who is also the medical director for immunization services and chair of the Immunization Program and Planning Committee at UW Health, referred to a recent report from the Wisconsin Collaborative for Healthcare Quality for health systems in their success at immunizing teens against HPV across the state.
UW Health ranked second in Wisconsin, with a 71.2 percent vaccination rate by age 15, but in some parts of the state, the rates are as low as 30 percent.
Dr. Conway said that even though some may feel uncomfortable discussing a sexually transmitted disease such as HPV, it is important for patients and providers to consider HPV vaccination as a necessary and safe way to prevent several types of cancers.
[Vaccines] are tested on hundreds of thousands of people, they're scrutinized way more than anything else in the medical system, he said. "Even after they're licensed and put on the market, they're followed really closely for any sort of safety issues."