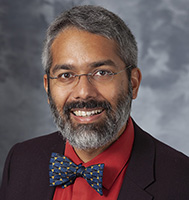 In July 2017, Dipesh Navsaria, MPH, MSLIS, MD, became the new medical director of the University of Wisconsin-Madison Physician Assistant Program.
Dr. Navsaria is an associate professor (CHS) in the Department of Pediatrics' Division of General Pediatrics and Adolescent Medicine and a general pediatrician at Access Community Health Centers Joyce & Marshall Erdman Clinic in Madison.
Before becoming a physician, he graduated from the George Washington University Physician Assistant Studies Program in 1998 and practiced as a pediatric PA for three years.
He began teaching in the PA Program in 2007 and currently directs the SMPH's MD-MPH program. He's also the founder and medical director of Reach Out and Read Wisconsin.
Dr. Navsaria is excited by the PA Program's success and its "agile, collegial, dynamic atmosphere." He has interests in developing students' advanced history-taking and patient-communication skills, but is working with faculty to identify how he can best serve the program.