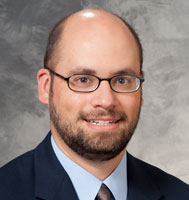 Department of Pediatrics Assistant Professor Christian Capitini, MD, was among UW Health physicians and staff featured in a Wisconsin State Journal article on CAR T-cell therapy, a promising new immunotherapy for resistant acute lymphoblastic leukemia (ALL).
The article profiled two young patients who were the first to receive CAR T-cell therapy in Wisconsin since it was approved last year. UW Health is the only place providing it in the state.
The treatment is the first gene therapy approved in the United States, a "living drug" made by genetically modiying a patient' immune cells to better recognize a specific protein on leukemia cells. The treatment, called Kymriah, is "a paradigm-shifting game changer," Dr. Capitini said.