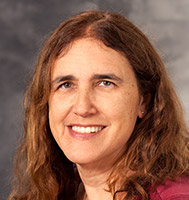 Anna Huttenlocher, MD has been awarded $50,000 as the recipient of the Graduate School's H.I. Romnes Fellowship award. This program, funded by WARF in recognition of the leadership of the late WARF Trustee President H. I. Romnes, is designed to bridge the gap between the Research Committee's initial research support for new faculty and the Mid-Career Award for Faculty Research. The nominee should be an exceptional tenured faculty member who has attained tenure within the prior four years (e.g., since July 2003).
The H. I. Romnes Faculty Fellowship awards are made possible by the impressive research efforts of UW-Madison faculty and staff. Technology arising from these research efforts is licensed by our patent management organization, the Wisconsin Alumni Research Foundation (WARF), to industry. Income from successful licenses is returned to the Graduate School to fund a variety of research activities throughout the divisions on campus, including these awards.
The Romnes award is a $50,000 flexible research fund that is initially set up for five fiscal years. Dr. Huttenlocher's award will begin 7/1/2007.