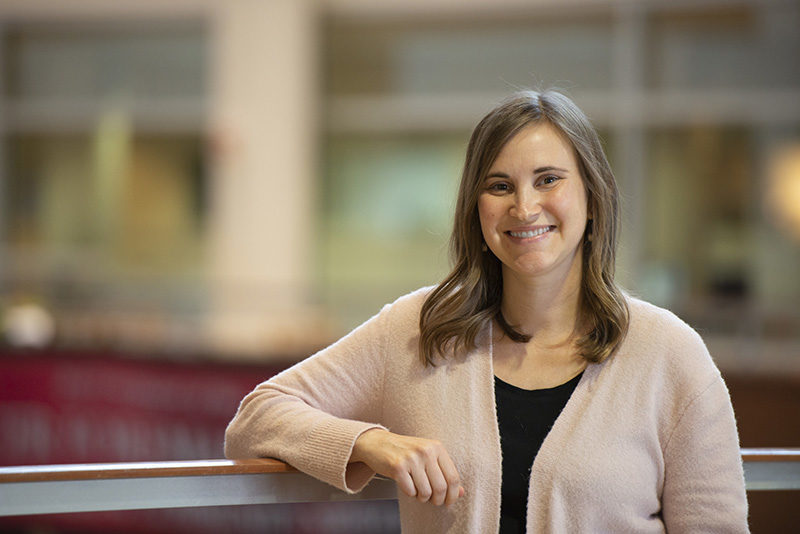 When Sarah Webber, MD, associate professor, Division of Hospital Medicine, was appointed director of well-being for the University of Wisconsin Department of Pediatrics in July 2019, she brought an acute interest and several years of personal experience to the role.
After her residency with the Department of Pediatrics, Webber joined the faculty as an assistant professor in Hospital Medicine, specializing in pediatric sedation. She practices at American Family Children's Hospital's Diagnostic and Therapy Center and for several years was also the staff physician and academic hospitalist at St. Mary's Hospital. During her first year on the faculty, she "hit a wall."
"My own experience with burnout and severe work-life conflicts caused me to begin thinking, 'I don't want to do this anymore,'" Webber explained. "Luckily, I had a few very good mentors who advised me to dial it down, to take care of myself."
A key experience in her journey to start taking care of herself was her participation in UW Health's Mindfulness-Based Stress Reduction course. This experience transformed how Webber approached personal and professional stress and gave her a sense of calm she didn't know existed. Seeing burnout in her colleagues and wanting to help them, Webber participated in mindfulness teacher training and the Women's Wellness Through Equity and Leadership (WEL) 18-month program, as well as other programs addressing work-life balance and work improvement.
The inaugural American Conference on Physician Health (ACPH) in October 2017 was a signal to Webber. The hosts sought to "inspire organizations throughout the country to seek ways to bring back the joy in medicine for all our physicians."
"Nearly everyone knew there was a burnout issue," Webber recounted, "but it was unnamed, seldom publicly discussed. The first Conference on Physician Health made it a named problem. Everything shifted after that."
But Webber noted it was not enough. "Even after this important conference, however, there was a perceived risk to discussing well-being professionally," she said. "The broader medical culture made well-being controversial, a sensitive topic. The foundational assumption I had been carrying was, 'If you can't take the stress, you're in the wrong profession.'"
Webber learned that the hidden curriculum — powerful invisible assumptions and language about medical education and the medical profession — needed to be identified, examined, and when necessary, changed. It's what prompted her to begin investigations into clinician wellness through her own research group, Webber Well-being Research Group. And when the Department of Pediatrics 2019 Strategic Plan included prioritization of well-being — an overt acknowledgment of the need — her previous work in well-being was recognized by department leadership, and she was given time and a title to lead well-being efforts in the department.
As the director of well-being, Webber's goal is to support the emotional and psychological resilience, physical health, connection, meaning and purpose, and authenticity of Department of Pediatrics members — evidence-based contributors to well-being.
Webber says during her training she internalized an ideal model that a physician should feel guilty in attending to their own well-being.
"That model presents physicians as superheroes: tireless and so dedicated to patients that it can come at a cost to themselves and their own families," she said. "That vision works for some, but certainly not for everyone, and not for me." Webber explained that she would like to help the department build a bigger, more inclusive sense of being a doctor that welcomes both those energized by the superhero vision and those who feel that caring for themselves and their families helps them show up as their best for their patients.
Webber created an informative webpage describing the scope and goals of the directorship. The key areas of scope are Data and Metrics, Advising and Strategizing, Improvement and Innovation, and Foundational Programs and Resources. During 2021, Webber worked to build the structure of three well-being advisory committees; identified department member needs through listening sessions concerning work locations, technology, and hybrid work; and presented results of those sessions to stakeholders. Last year, Webber also grew the faculty peer support team, which is a part of the larger UW Health Peer Support Program.
In addition to developing an infrastructure of support, Webber is using her role to support others' well-being efforts. She regularly speaks about well-being topics, including through FLOURISH Hour, a monthly series supporting department members in flourishing in their careers, Grand Rounds, and at divisional meetings.
Webber is also working to pilot systems approaches to improving well-being in the department. In January 2022, Webber launched a pilot program within the Division of Hospital Medicine on mitigating sleep-related impairment. In the future, Webber intends to use what she has learned through this experience to support champions of new ideas within other divisions.
Her latest project idea is called How We Work, which aims to utilize workflows, tools, and education to facilitate a work culture in the Department of Pediatrics that empowers faculty, staff, and trainees to engage in productive, efficient, meaningful, and collaborative work. Webber anticipates How We Work provide tips, structure, and education to help people implement work strategies used in other industries.
Department members who would like to get involved in decision-making and initiatives addressing well-being can join an advisory committee. Three subcommittees have been formed for faculty and APPs, residents and fellows, and administrative and researcher staff. Learn more by visiting the Department of Pediatrics intranet or by reaching out to Sarah Webber or Jenna Contreras.