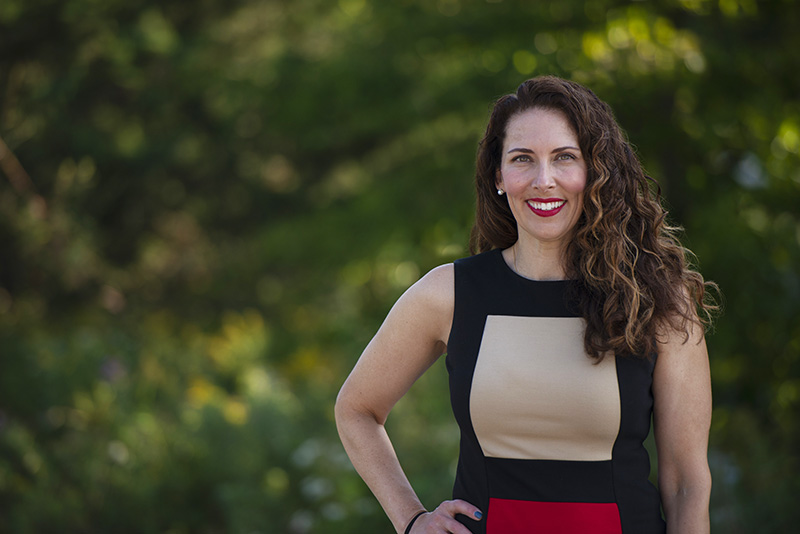 When Kristin Shadman, MD, associate professor, Division of Hospital Medicine, was selected as the Department of Pediatrics' first director of quality improvement (QI) scholarship, she brought years of interest and experience in the field. Before her directorship began in July 2021, Shadman had already worked to increase awareness and use of quality improvement methods within the department. She had also served as a content and quality improvement expert for the American Academy of Pediatrics (AAP).
"I always had an interest in and knack for making things work better," Shadman said. "I even started college in engineering, but I realized I could apply concepts of operations engineering — which focuses on effective processes — to the life sciences, which I preferred to pursue."
Shadman earned her undergraduate degree in nutrition at Cornell and completed her medical degree at the University of Connecticut. A pediatric residency at the University of Rochester Golisano Children's Hospital revealed how she could combine her interests in women's health, child development, and psychology. "Medicine allowed me to both engage with people and be a problem solver," Shadman said.
Shadman had applied her problem-solving skills in her work as director of quality in the Division of Hospital Medicine from 2019, and she found that colleagues frequently sought her out as an expert and mentor in quality improvement. In 2019–2020, she took the intensive Cincinnati Children's Hospital Advanced Improvement Methods course to deepen her knowledge and understanding of current QI methods and scholarship, especially the use of data analysis in process improvement. She used what she learned to develop courses in quality improvement methods within the department. These course curricula led department leadership to offer Shadman the QI scholarship directorship in mid-2021. The courses became the foundation for many of her current efforts.
An overarching purpose of the QI scholarship directorship is to encourage and support scholarly work in quality improvement within the department. Shadman seeks to assist others in developing QI skills to accelerate the delivery of high-quality pediatric care and to promote the scholarly dissemination of their work.
In the first year of her directorship, Shadman developed informative web pages [login required] on the Department of Pediatrics' intranet. These include a repository of descriptions and links to resources for faculty and intensive QI training groups. An advisory committee comprised of faculty members with QI experience was created.
Most important, Shadman initiated an intensive faculty development program to strengthen QI knowledge and skills. Increasing Novel Scholarship through Peer Innovation, Research, and Education in Quality Improvement (INSPIRE-QI) cohort members meet monthly over one year. Participants gain QI knowledge of research methods, peer response on QI project design and measures, support in drafting and editing abstracts, talks, and manuscripts, and opportunities to network locally and beyond. Shadman recruited the first INSPIRE-QI cohort in 2021. The second is in progress, and a third will be recruited in the spring of 2023.
"Over that first year of INSPIRE-QI, I realized that I had become the one who people approached for QI advice and mentorship, particularly for help with scholarly products such as abstracts, presentations, and manuscripts," Shadman said. "There was definitely a need for more mentors."
Consequently, the second cohort, called INSPIRE-QI-Pro, was recruited in 2022 with the added purpose of generating greater skills and confidence in active mentorship. The goal: create a growing group of knowledgeable mentors who could engage with colleagues about the many QI questions arising as awareness of QI methods, their benefits, and their scholarly potential increased. Ideally, cohort-trained faculty members will be able to support each other and mentor other faculty and learners in QI concepts and skills that may be applied to areas such as patient care, workflows, education, and research processes.
In addition, Shadman established monthly "QI Office Hours" available to all interested department members. QI Office Hours addresses various QI topics and answers scholarly QI questions. "The groups are engaging and lively, and I encourage people to attend just to listen in," Shadman said. "Even for those who don't yet have an active project, listening to others' questions and discussion is very instructive."
Shadman believes that QI scholarship must be more generally recognized. "Quality improvement is not something many others have used as a scholarly product," Shadman said, "but it must be recognized as a valuable scholarly and research area. Those who devise innovative methods to improve patient care must be able to present their work as a recognized scholarly product, so they are not obliged to find other research areas to support their academic promotion."
Shadman noted that it took a long time for her to find a mentor herself. She predicts that as more faculty members become knowledgeable and conversant in QI concepts and methods, a robust QI community will naturally form, further promoting and validating QI as a recognized scholarship area.
For the future, beyond new INSPIRE-QI cohorts, Shadman seeks to offer more QI opportunities in the department within existing formats, such as Research Week, Flourish Hour, and Grand Rounds, and through partnerships with other directors within the department, with SMPH, AAP, and beyond.
Learn how you can get involved in QI scholarship at the Department of Pediatrics Intranet [login required]. If you're interested in participating in future INSPIRE cohorts, email Jenna Contreras for more details.